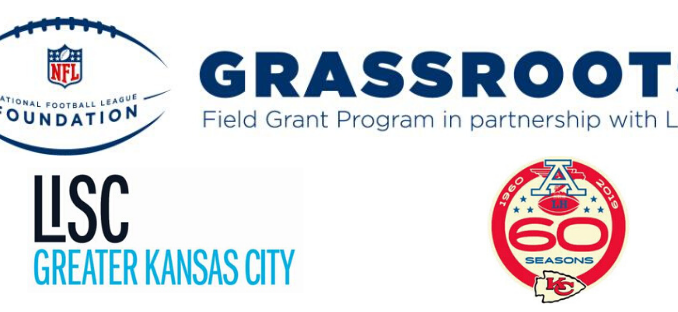 NFL / LISC GRASSROOTS PROGRAM AND KANSAS CITY CHIEFS GRANT $250,000 FOR NEW SYNTHETIC TURF FIELD AT CENTER HIGH SCHOOL Award is part of $3 million in new grants to athletic fields nationwide
Kansas City's Center High School will get a new synthetic turf field thanks in part to a $250,000 grant by the Kansas City Chiefs through the National Football League (NFL) Foundation Grassroots Program.
The grant from the Chiefs, the NFL Foundation, and the Local Initiatives Support Corporation (LISC) to Center School District #58 is part of $3 million in field refurbishment awards allocated nationally this year. Including this grant, the Chiefs have now been involved in funding for a total of 15 area youth field projects with LISC and NFL Grassroots grants. With additional internal funding, the Chiefs have helped contribute $3.1 million towards youth football facility development and improvement since the club's initial donation in 1999.
The NFL Foundation Grassroots Program — a partnership between the NFL Foundation and LISC, the nation's leading community development support organization — has supported the construction or renovation of 376 football fields nationwide since 1998. During that time, the NFL Foundation has granted nearly $61 million to revitalize playing fields in underserved neighborhoods. Fields are newly built or significantly renovated, with improvements such as irrigation systems, lights, bleachers, scoreboards, goal posts and turf. Grassroots grants are issued once established funding thresholds are reached for each project.
"We are once again proud to partner with LISC and the NFL Foundation's Grassroots Program to present Center High School with this grant," Chiefs President Mark Donovan said. "We have seen firsthand how much the game of football can have a positive impact on an entire community. We will continue to support youth and high school football programs in our area, and we look forward to seeing the new advancements at Center High School in the near future."
LISC identifies local, nonprofit, community-based agencies that have an interest in building or refurbishing football fields in schools and neighborhood parks. Through the program, local agencies are provided with the necessary financing and technical assistance to improve the quality and safety of fields in their communities.
The agencies oversee the construction, maintenance and programming of the fields. "The Kansas City Chiefs are leaders in giving back to our community, and we are honored to have partnered with them these past 20 years to invest in future generations," said Geoff Jolley, LISC Greater Kansas City executive director. "We look forward to continuing to work with the Chiefs organization, their players, and the NFL Foundation to build vibrant, healthy, equitable communities throughout the region."
About the NFL Foundation
The National Football League Foundation is a non-profit organization dedicated to improving the lives of those touched by the game of football — from players at all levels to communities across the country. The NFL Foundation represents the 32 NFL clubs and supports the health and safety of athletes, youth football, and the communities that support our game. For more information on the NFL Foundation, visit: www.NFLFoundation.org.
About LISC
By working together with residents and partners, LISC forges resilient and inclusive communities of opportunity. LISC combines corporate, government and philanthropic resources to help revitalize distressed neighborhoods by equipping the communities with the capital, strategy, and know-how to become places where people can thrive. Since 1980, LISC has invested $20 billion to build or rehab more than 400,500 affordable homes and apartments and develop 67 million square feet of retail, community and educational space — including athletic facilities and other recreational space. For more information, visit www.lisc.org.