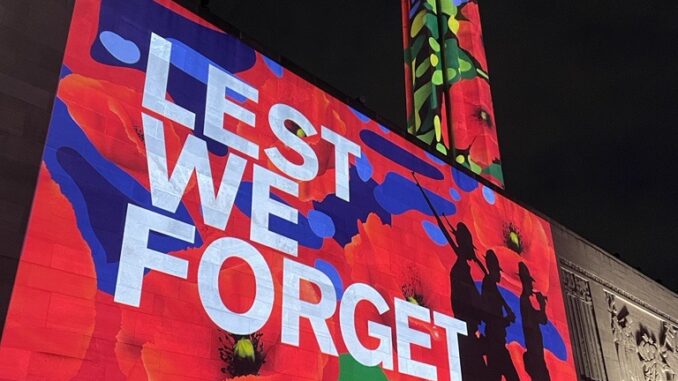 Paris Johnson Jr., Draft prospect and founder of the Paris Johnson Jr. Foundation, will lead the lighting of the National WWI Museum and Memorial's special ephemeral art installation, "Horizons," on the iconic Liberty Memorial Tower and the North Terrace wall. The illuminated poppy installation is commissioned by the Museum and Memorial in conjunction with the NFL Draft, representing the sacrifice of those who lost their lives on the battlefields.
The lighting will occur at 8:40 p.m. on Wednesday, April 26th and will continue through 1 a.m. The Tower will be lit each night from April 25-29.
The Paris Johnson Jr. Foundation is dedicated to empowering and serving disabled veterans and disadvantaged student athletes with dignity and respect. The foundation accomplishes this by ensuring that disabled veterans, student athletes and their families can obtain helpful resources that benefit them.
For more information about the Museum and Memorial and planning your visit to the NFL Draft, please visit: https://www.theworldwar.org/nfldraft