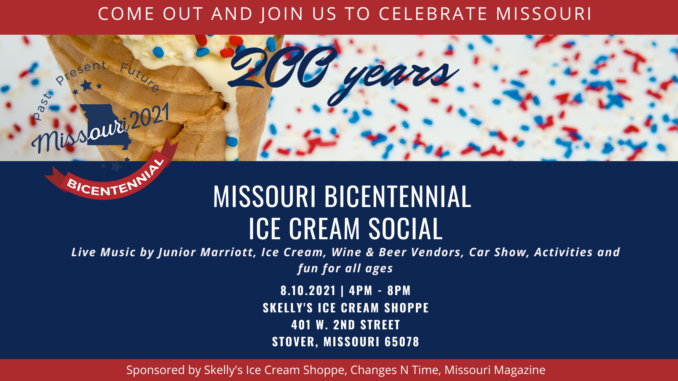 Join us on August 10, 2021, 4pm – 8pm for the Missouri Bicentennial Ice Cream Social as we celebrate 200 years of statehood this year. (sponsored by Skelly's Ice Cream Shoppe, Changes N Time and Missouri Magazine. Come and enjoy live music by Fiddle Champion Junior Marriott, Ice Cream, Wine & Beer Vendors, Car Show, Activities and fun for all ages.
August 10th, 2021 | 4PM – 8pm Skelly's Ice Cream Shoppe 401 W. 2nd Street Stover, Missouri 65078. All events will take place downtown Stover, Missouri on Main Street. Please park on the side streets there will be no parking on Main Street as it will be reserved for the vendors and car show.
Registration for the car show will begin at 3 pm in front of the City Hall in Stover, Missouri. Please register at the tent/registration table between 3 – 4 pm. All cars must be parked by 3:45 p.m.
Join our event on Facebook for the latest updates here. Invite your friends. Open to the Public.
For more information email us at [email protected] or call 573-284-5406
Masks are recommended during check-in for the car show. Please feel free to wear masks during the event.