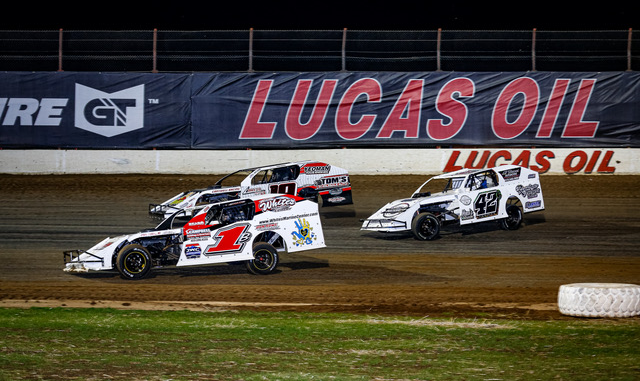 The Rempfer Memorial Season Championship Night at Lucas Oil Speedway on Saturday will determine season champions in the four classes. Bobby Williams (1) of Hermitage holds a narrow lead over JC Morton in the Ozark Golf Cars USRA B-Mods. (GS Stanek Racing Photography).
The Big Adventure RV Weekly Racing Series comes to a close on Saturday with the Rempfer Memorial Season Championship Night Presented by Bill Roberts Chevrolet-Buick and KCTV-5 Kansas City.
While three of the four divisions have clear-cut championship leaders, the battle for the Ozark Golf Cars USRA B-Mod race is coming down to the wire. Bobby Williams of Hermitage has used consistency throughout the season with eight top-five finishes and will take a 14-point lead over JC Morton into the final night.
Morton, the 2016 and 2018 track champion, has been on a roll of late to climb into contention. The Springfield driver has three feature wins and two second-place runs over the last five events to cut into Williams' lead.
In the other divisions, Mason Beck is on the verge of clinching the O'Reilly Auto Parts USRA Stock Cars championship with an 89-points lead over William Garner. The other two track championships are locked up with Ryan Middaugh of Fulton a 195-point leader over Jason Pursley in the Cedar Creek Beef Jerky USRA Modifieds and Aurora's Justin Wells 140.5 in front of Larry Ferris atop the Hermitage Lumber Late Models.
The championship-night program is named to honor Harold "Rowdy" Rempfer and his wife, Julia, who were killed in an automobile accident five years ago. Rowdy was the mayor of Wheatland and he and Julia both worked at Lucas Oil Speedway for many years.
Kids' Power Wheel finale: An added attraction during intermission will be the final round of Kids' Power Wheel races of the season. For ages 3-through-9, the races will be on the front straightaway with the youngsters navigating a course outlined by orange cones.
The kids can enter their own battery-powered Power Wheel cars by signing up for
the Frogs Jr. Fan Club on the south end of the Midway prior to the races. One Kids Power Wheel class will be the 6-12 volt cars and another will be for the
24-36 volt class. No power or speed enhancement modifications will be allowed.
The youngsters can bring their Power Wheels to the Frogs Jr Fan Club sign-in, or
drop them off at the pit gate and the Power Wheels will be brought to the front
stretch at intermission.
Pit Gates open at 4 p.m. with grandstands at 5, hot laps at 6:30 and racing at 7:05.
Saturday admission:
Advance Discount Tickets online only (16 and up) – $12
Adults (16 and up) – $15
Seniors (62 and up)/Military – $12
Youth (6-15) – $5
Kids (5 and under) – FREE
Family Pass – $35
Pit Pass – $35
For information on any event at Lucas Oil Speedway in 2023 contact admissions director Nichole McMillan at (417) 282-5984 or email her at [email protected] for more information.