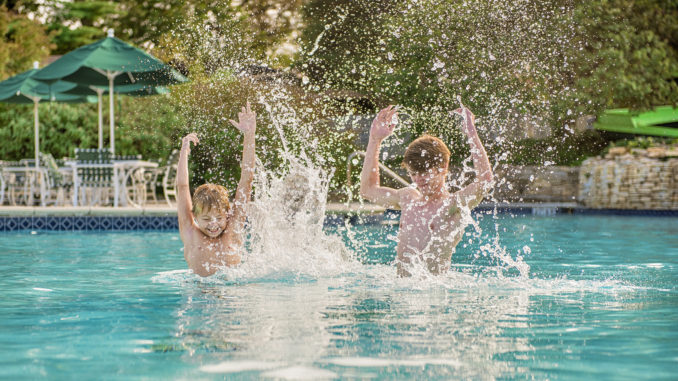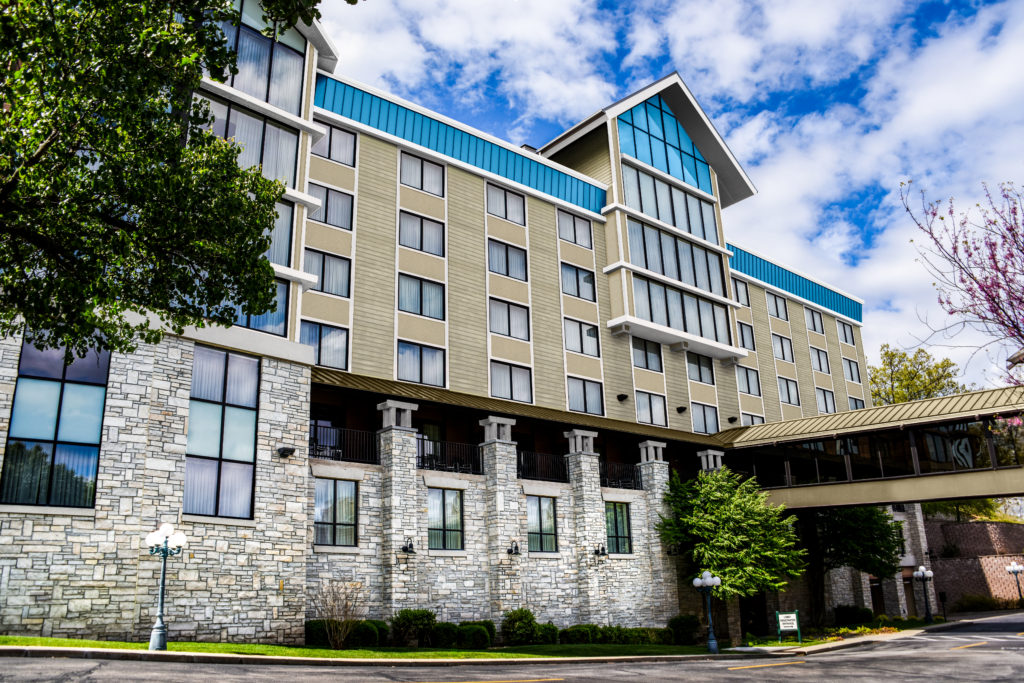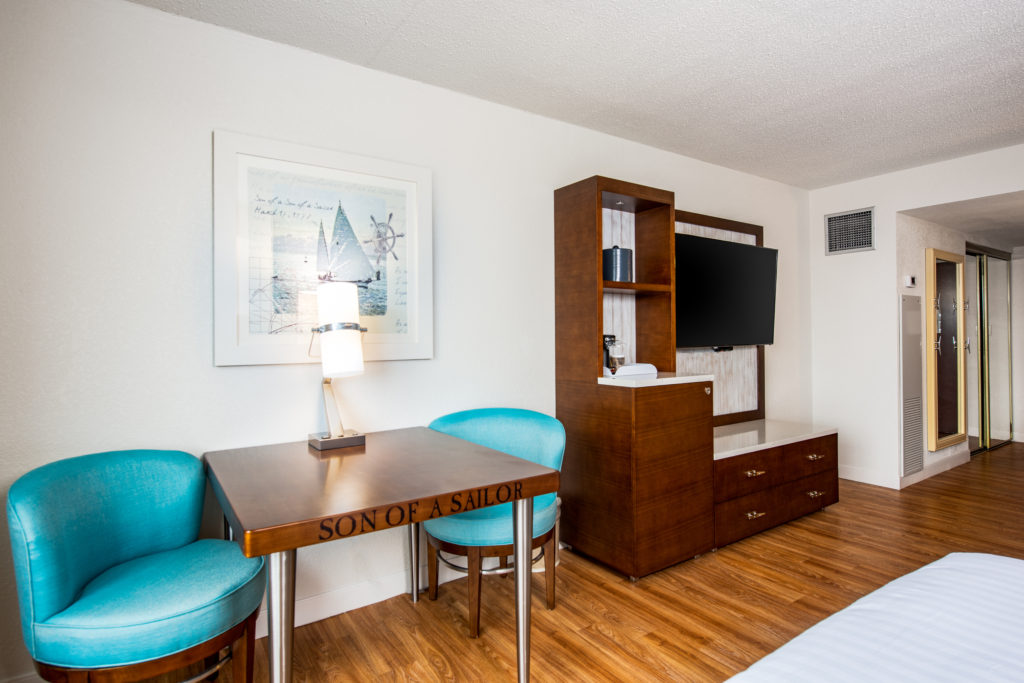 Margaritaville Lake Resort, Lake of the Ozarks, today announced its official transition to a Margaritaville property. The resort underwent a phased renovation process that included refreshed guestrooms and public areas (new guestroom décor, pictured left), signature Margaritaville food and beverage concepts, as well as updated amenities and activities such as the Jolly Mon Indoor Water Park, Fin City Bowling Alley and more.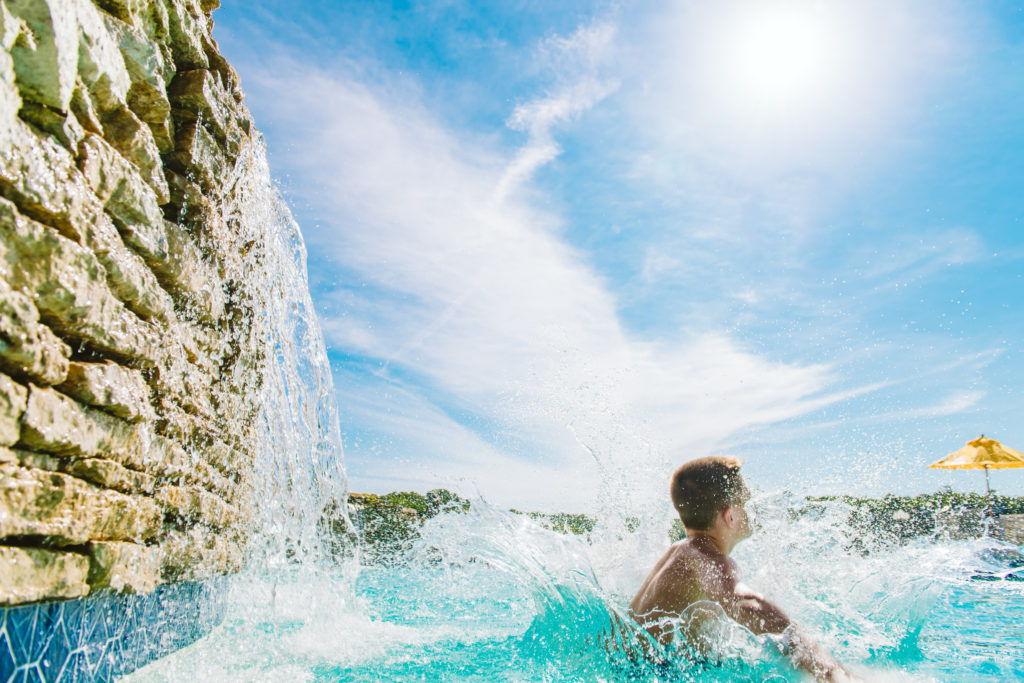 "We are thrilled to officially bring the Margaritaville lifestyle to Lake of the Ozarks with our rebranding," said Fred Dehner, the resort's general manager. "We look forward to continuing to provide a fantastic, unique experience to guests under the Margaritaville name, especially as the brand's first full-service lake resort."
Refreshed Design and Guestrooms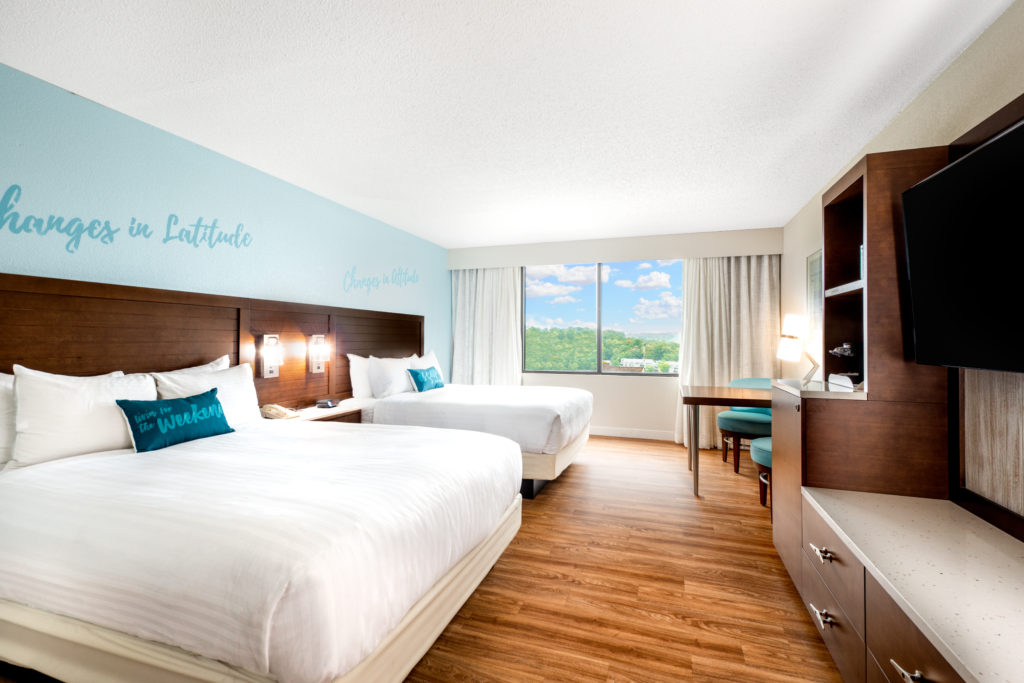 Guests are instantly transported to a vacation state of mind as they are greeted outside the main resort entrance by a larger-than-life blue flip flop sculpture, then enter the newly renovated lobby, complete with a License to Chill Bar & Grill and Margaritaville Coffee Shop. Reflecting the lake's peaceful vibe, all buildings at the resort complex are now a shade of warm sand with white trim. Guestrooms in the resort complex received a refresh with Margaritaville's signature casual-luxe design, including warm wood elements and bright accents.
New Margaritaville Dining Concepts
Several new food and beverage concepts were introduced to the resort during the renovations, including: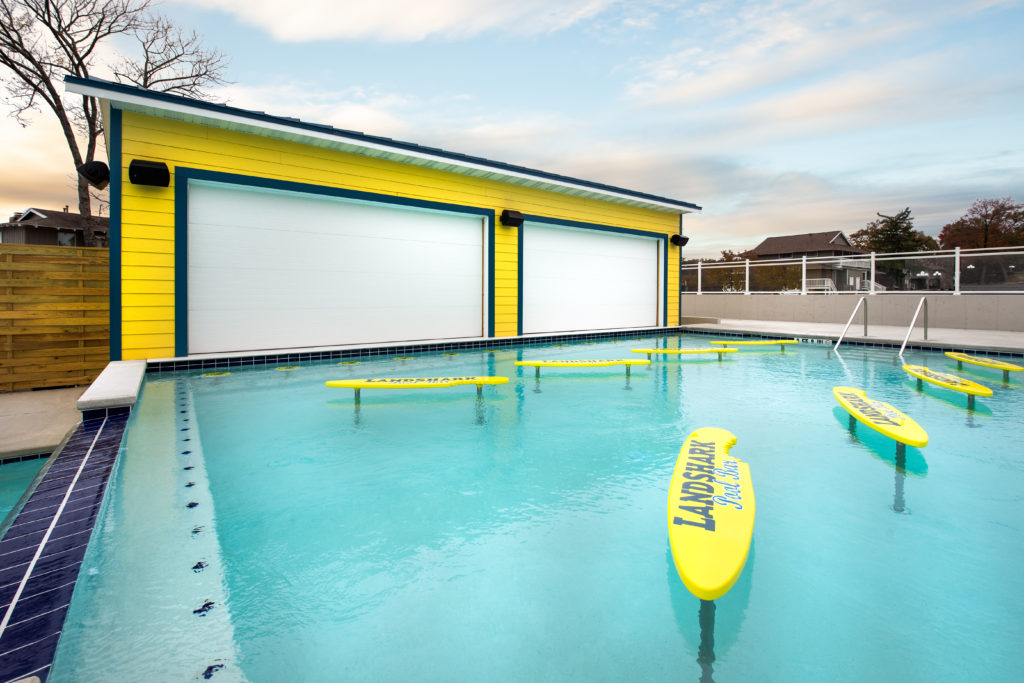 ·       LandShark Bar & Grill the newly opened flagship waterfront restaurant, features delicious classics like nachos, wings, and signature LandShark burgers. This restaurant overlooks the lake and has a swim-up pool bar for even more fun!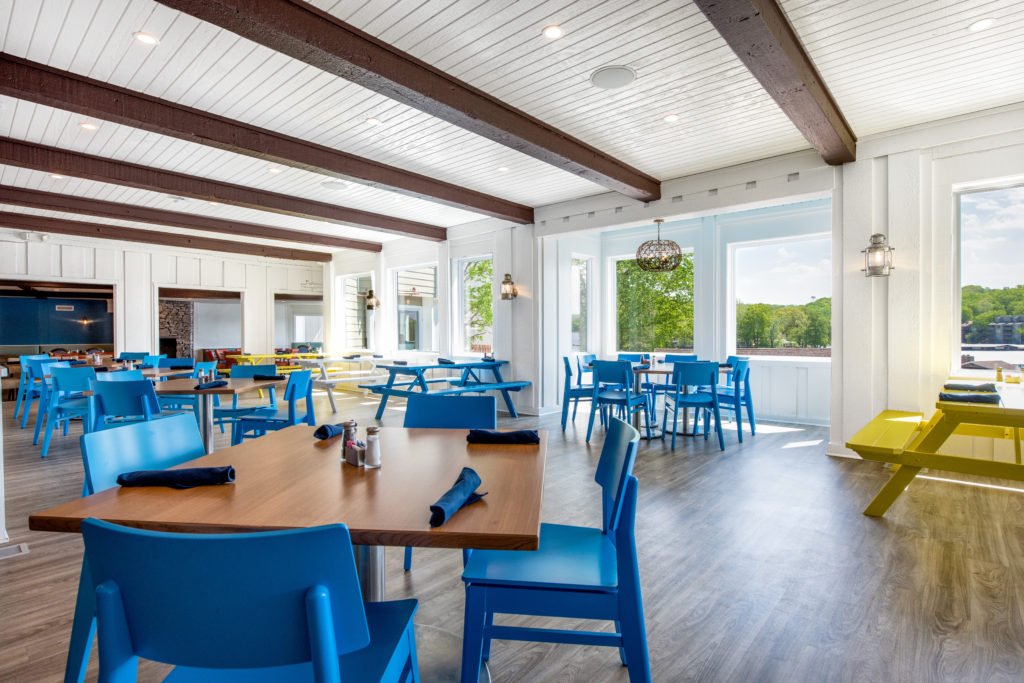 · JB's Boathouse Grill, boastingclassic nautical décor with bright blues and crisp white colors, is the perfect spot for diners to enjoy breakfast fare, sandwiches, salads, steaks, boat drinks and more.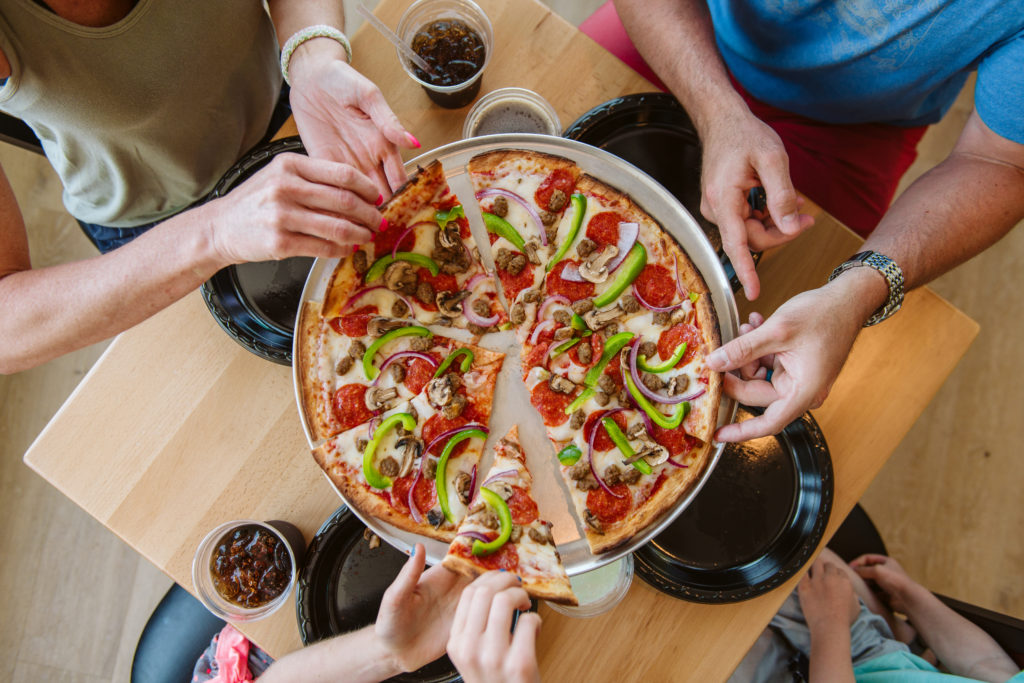 · Frank & Lola's Pizzeria,a family-friendly casual dining option,is ideal for families and friends looking to grab a fresh pie while enjoying a game of pool or darts.
· Windrose Marker 26 Lakeside Dining, the resort's beautiful lakeside restaurant, serves exceptional seafood, steaks and more.
· License to Chill Bar & Grill, the resort's lobby spot, immediately welcomes guests to paradise upon arrival.
· The Tiki Hut Pool Bar, located at the resort's Lakeside Pool, offers tropical beverages for those enjoying fun in the sun.
· Margaritaville Coffee Shop, located in the lobby,serves freshly brewed coffee from signature blends, as well as blended frappes, tea, smoothies and hot cocoa.
Fun Amenities and Activities for All Ages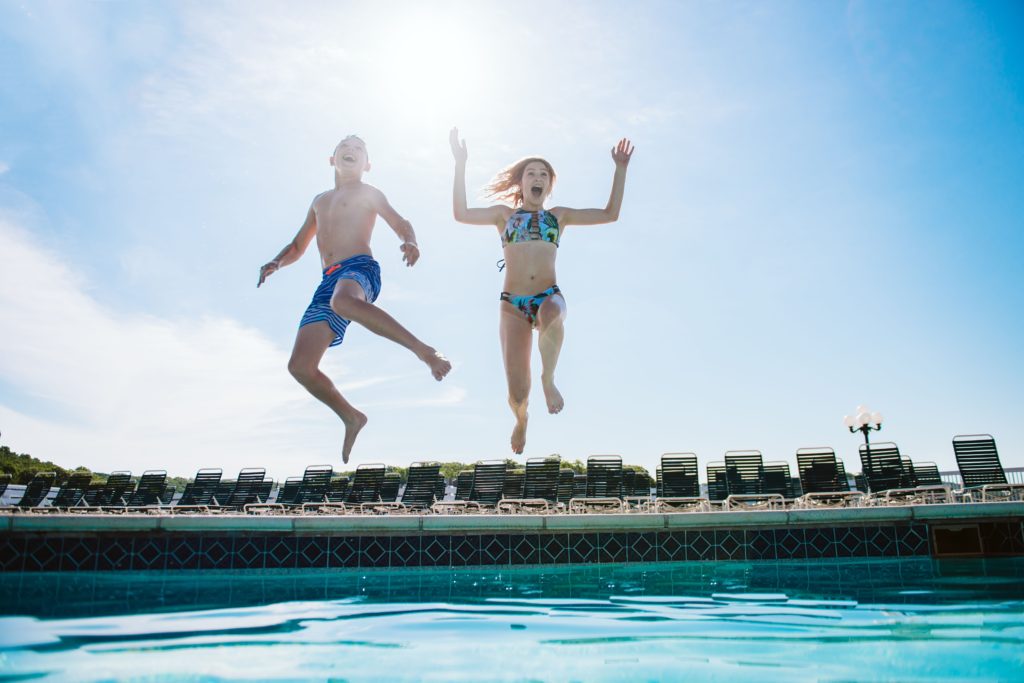 Margaritaville's first lakeside resort provides guests with countless amenities, including two golf courses with a fresh new fleet of golf carts; three pool complexes, including one with a swim-up bar and another with a toddler splash pool and waterslide; a fitness center; and basketball and tennis courts.
The resort also has numerous activities for the whole family to enjoy, including:
· Jolly Mon Indoor Water Park has 600 feet of water slides, a lazy river for tube floating and a three-story beach house play area.
· Fin City Arcade features state-of-the-art video games, classic favorites and electronic simulators.
· Fin City Bowling, the resort's eight-lane bowling alley, can be set up for bumper bowling and hosts cosmic bowling nights.
· Port of Indecision Marina offers watercraft rentals, such as wave runners, pontoon boats, ski boats, paddle boards and more.
· Harbor Master Mini-Golf Course, the resort's onsite mini-golf course, is fun for the whole family!
· Daily Scenic Cruises on the Tropic Island Yacht allow guests to get out on the water and enjoy picturesque views of the Lake of the Ozarks.
· Horseback Riding gives guests the opportunity to explore the resort grounds in a unique way. M
For reservations or more information, please visit MargaritavilleResortLakeoftheOzarks.com, and follow Margaritaville Lake Resort, Lake of the Ozarks at Facebook.com/MVLakeResort, Twitter @MVLakeResort, and Instagram @MVLakeResort.
About Margaritaville Lake Resort, Lake of the Ozarks
Located along the peaceful shores of the Lake of the Ozarks in Osage Beach, Mo., Margaritaville Lake Resort, Lake of the Ozarks is a 494-room scenic retreat reflecting the fun and escapism synonymous with the Margaritaville lifestyle. This perfect lakeside escape transports guests into a vacation state of mind, blending Margaritaville's authentic "no worries" vibe with the area's lake lifestyle. The resort features multiple diverse restaurant concepts, a full-service spa and salon, a fitness center, horseback riding, bowling, an arcade, two championship golf courses, three outdoor pool complexes and a 20,000 square-foot indoor water park. A premier destination for corporate meetings, incentive retreats, social functions and weddings, the resort is home to more than 89,000 square feet of flexible indoor event space, as well as several outdoor venues. The resort is part of Margaritaville's growing collection of hotels and resorts. Today, the global lifestyle brand features 17 lodging locations with more than 24 additional projects in the pipeline.