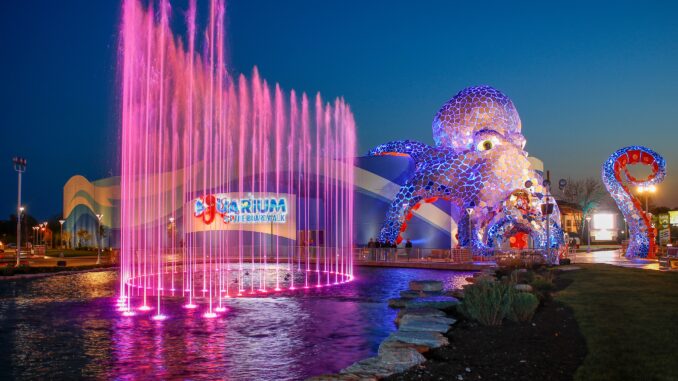 Outside the Lines (OTL), a design-build construction company that specializes in creating one-of-a-kind water features, fountains, rockwork and themed environments, has announced the completion of a water-effects show fountain at Branson's new entertainment complex, Branson Boardwalk. The visually stunning water feature is located in the center's cascading lake, situated adjacent to Aquarium at the Boardwalk, the first attraction developed at the entertainment hub.
Designed and built by OTL, the fountain plays two fully choreographed shows every half hour from 8 a.m. to 10:30 p.m. seven days a week.
"As a destination that attracts more than nine million visitors each year, Branson is a beloved tourist landscape," says J. Wickham Zimmerman, Chief Executive Officer for OTL. "This new center brings fresh themed entertainment to the area, ultimately increasing repeat visits as travel continues to bounce back after the impact of the COVID-19 pandemic."
Branson Boardwalk now offers the Boardwalk Beer Garden, along with the world-class Aquarium at the Boardwalk, which made its debut at the center in Fall 2020. The dazzling show fountain adds to the exciting line-up at the venue, serving as an anchor attraction, according to Tej Sundher, Partner at Kuvera Partners, owner and operator of Branson Boardwalk.
"We are beyond thrilled to see our vision come together with the completion of this spectacular show fountain. It exceeded our expectations," says Sundher. "The response has been fantastic. Visitors are gathering day and night to enjoy the Dancing Waters."
Immersive technology is a continuously growing trend, explains Allie Long, OTL's Senior Project Designer and lead fountain show programmer.
"We are seeing an increased interest in immersive technology in several industries, and especially in the worlds of retail and themed entertainment," says Long. "Branson Boardwalk's show fountain uses state-of-the-art technology along with our human touch to choreograph water, light, and fog to a variety of songs that please visitors of all ages. Experiencing the beautiful sights and sounds of this amazing water feature makes the visit even more enjoyable and memorable for guests."
Branson Boardwalk is located at 2700 West 76 Country Blvd. in Branson, Missouri.
About Outside the Lines, Inc.
As creative leaders in design and construction, OTL increases the value of commercial properties by creating spectacular, entertainment-driven features. Comprised of the theming industry's most creative visionaries and the best artisans, the OTL team delivers the highest quality project management and construction to
transform any project into a world-class destination. Notable projects include Legacy West in Plano, Texas; Grand Park in Los Angeles, California; Station Park in Farmington, Utah; The Village at Meridian in Meridian, Idaho; and City Creek Center in Salt Lake City, Utah, among others. More information is available at www.otl-inc.com.