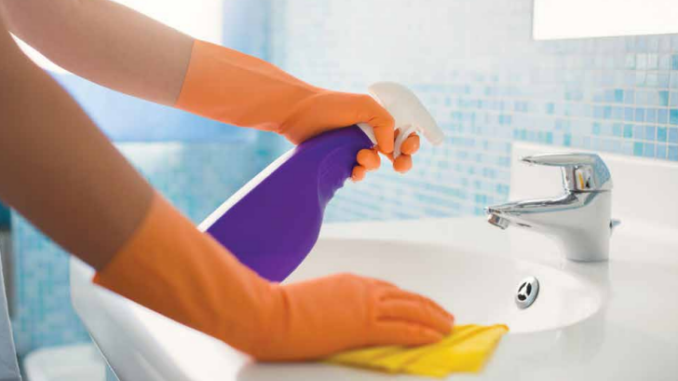 The Centers for Disease Control and Prevention recommends straightforward cleaning measures to reduce our chances of contracting COVID-19. Follow the simple tips below to ensure your home stays as safe and healthy as possible.
CLEANING AND DISINFECTING
If surfaces are dirty, they should be cleaned using a detergent or soap and water prior to disinfection. For effective disinfection, use diluted household bleach solutions, alcohol solutions with at least 70 percent alcohol and common EPAregistered household disinfectants. Diluted household bleach solutions can be used if appropriate for the surface, but always follow manufacturer's instructions for application and proper ventilation. The CDC states that unexpired household bleach will be effective against coronaviruses when properly diluted.
HOW TO PREPARE A BLEACH SOLUTION
Follow these mixing instructions to create an effective bleaching solution: 5 tablespoons (1/3 cup) bleach per gallon of water; or 4 teaspoons bleach per quart of water. OTHER PRODUCTS Products with EPAapproved emerging viral pathogens claims are expected to be effective against COVID-19 based on data for harder to kill viruses, according to the CDC. For soft, porous surfaces such as carpeted floor, rugs and drapes, the CDC recommends you remove visible contamination if present and clean with appropriate cleaners indicated for use on these surfaces.
PERSONAL PROTECTIVE EQUIPMENT
When cleaning your home or office, be sure to wear disposable gloves for all parts of the cleaning process, including handling trash. Additional equipment might be required based on the cleaning or disinfectant products being used and whether there is a risk of splash. Always remove your gloves and gowns carefully to avoid contamination of the wearer and the surrounding area. Wash your hands immediately after removing the gloves for extra protection.
DOING LAUNDRY
Performing laundry properly is an important aspect of keeping your family's health in good shape. Wash items in accordance with the manufacturer's instructions using the warmest appropriate water setting for the items and then dry items completely. Do not shake dirty laundry, as doing so can increase the possibility of dispersing virus through the air. Dirty laundry that has been in contact with an ill person can be washed with other people's items, according to the CDC. Be sure to clean and disinfect hampers or other carts used for transporting laundry.