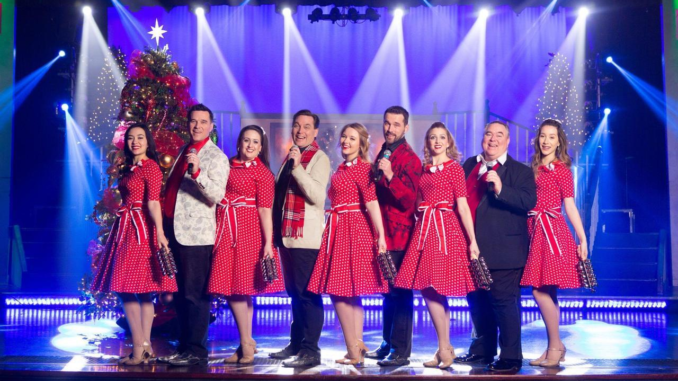 LEAPS TO LIFE WITH FESTIVE PERFORMANCES READY TO CHARM ALL VISITORS
Ozark Mountains Provide Magical Backdrop for Unforgettable Holiday Experiences
When it comes to celebrating Christmas, no place does it quite like Branson, Mo., where the entire town takes on a holiday glow and entertainers pull out all the stops to create festive events sure to please visitors of all ages. Holiday-themed performances from many of Branson's most beloved talents abound; fans of every musical genre and era will find themselves enchanted by artistic and technical wizardry, amused by comic shenanigans and touched by the warmth and sincerity poured into each offering.
Dublin's Irish Tenors & the Celtic Ladies couldn't wait for the usual Nov. 1 kickoff, and jumpstarted the season with their Oct. 30 unveiling of A Celtic Christmas. They'll deliver gorgeous renditions of Irish classics and traditional holiday favorites through Dec. 28 at King's Castle Theatre, 2701 W. 76 Country Blvd. (417-334-2500)
Perennial favorites the Haygoods made their dazzling holiday-season bow on Halloween with The Haygoods Christmas Extravaganza, their annual knockout performance filled with beloved tunes. Shows continue through Dec. 28 at the Clay Cooper Theatre, 3216 W. Highway 76.
(417-339-4663)
Holiday-themed performances from many of Branson's most beloved talents abound for the rest of the year. 'The Hits' Christmas Show, delivering top tunes from multiple genres, airs through Dec. 15 at Branson Event Center, 4230 Gretna Road. (417-294-6070)
The ever-popular Legends in Concert kicks off A Merry Country Christmas on Nov. 2 at Dick Clark's American Bandstand Theater, 1600 W. 76 Country Blvd. Conjuring Brooks & Dunn, Johnny Cash, Garth Brooks and other legends, performers will sing the fame-inducing hits plus favorite holiday selections through Dec. 23. (417-339-3003)
 The Hughes Brothers Christmas Show, voted Best Christmas show 15 years running, delights audiences through Jan. 5 as the four brothers and their families offer songs, dances and moving stories explaining the symbols of Christmas at their Hughes Brothers Theatre, 
3425 W. 76 Country Blvd. (417-334-0076)
 The Knudsen Brothers, better known as SIX, for the number of singing siblings behind their distinctive "orchestra of sound," perform their SIX Christmas Show through Dec. 30 at Dick Clark's American Bandstand Theater. (877-749-7469)
The Presleys, one of the first families of Branson, has been entertaining audiences for over 50 years with their country, gospel and bluegrass blend, sprinkled with dollops of humor. They make it extra special with Presleys' Christmas Jubilee in their Christmas tree-filled theater watched over by a pair of giant nutcrackers. Catch them through Dec. 15 at Presleys' Country Jubilee Theater, 2920 W. 76 Country Blvd. ((417) 334-4874)
Saddle shoes, poodle skirts and duck tails populate Hot Rods & High Heels 1950s Christmas, a holiday homage to the birth of rock 'n' roll, though Dec. 30 at Clay Cooper Theatre, 3216 W. 76 Country Blvd. (417-332-2529)
Kings Castle Theatre is where you'll find Branson's Christmas Wonderland, the area's largest holiday production, complete with a Rockettes-style chorus line and a magical sleigh ride. Through Dec. 31 at 2701 W. 76 Country Blvd. (888- 462-7267)
Branson's own "America's Got Talent" stars and creators of two popular PBS Christmas specials visit Christmas traditions around the world in The Duttons' Christmas Show, their multi-generational family extravaganza featuring Celtic fiddles, orchestral renditions of Christmas classics, winter fantasies coming alive and more surprises. Through Nov. 13 at Dutton Family Theater, 3454 W. 76 Country Blvd. (417-332-2772)
The Emmy-winning Texas Tenors are back with Deep in the Heart of Christmas, featuring the best of harmony-laden country, opera and beloved holiday characters, at the Mickey Gilley Grand Shanghai Theatre, 3455 W. 76 Country Blvd. through Nov. 29. (417-336-0888)
It wouldn't be Christmas in the Ozarks without theClay Cooper Country Express Christmas, Cooper, his wife, Tina, and their extended performing family belting out rock, country, patriotic songs and other tunes, plus comedy galore, through Dec. 29 at the Clay Cooper Theatre, 3216 W. 76 Country Blvd. (877-317-2604)
Set at the dawn of World War II, Sanders Family Christmas turns a soldier's sendoff into a rousing, moving holiday celebration in North Carolina's Mt. Pleasant Baptist Church — actually, the stage at Little Opry Live, 3562 Shepherd of the Hills Expressway. Catch it through Dec. 30. (417-335-4832)
What would Christmas be without A Christmas Story? The Shepherd of the Hills' Playhouse Dinner Theatre brings the beloved story of Ralphie Parker and his pursuit of a BB gun to life for old and new fans of the holiday classic through Dec. 26. 5586 W. 76 Country Blvd. (417-334-4191)
Cassandré – The Voice of an Angel Christmas Spectacular features the team of vocalist Cassandré Haygood and multi-instrumentalist Timothy Haygood, supported by an array of soloists and dancers and the Stardust Band, now joined by the Johnson Strings. Through Dec. 7 at Hughes Brothers Theatre, 3245 W. Highway 76. (800-422-0076)
Showboat Branson Belle Christmas Cruises adds kid-friendly Santa's Pancakes & PJs cruises to its Christmas Celebrate! and Carols on the Belle offerings, Nov. 9 through Dec. 30, 4800 State Highway 165. (417-336-7171)
 The Grammy-winning trio of Larry, Steve and Rudy Gatlin present their eagerly awaited, one-night-only Gatlin Brothers Christmas show on Nov. 17 this year, at the Mansion Theatre for the Performing Arts, 189 Expressway Lane. (417-335-2000)
Matthew Boyce's Retro Christmas Spectacular features Boyce, the Garland Girls and a certain special guest from "up North," revisiting holiday classics from the Andrews Sisters, Bing Crosby, the Beach Boys and others, Dec. 10-14 at Americana Theatre, 2905 W. 76 Country Blvd. (417-544-8700)
Anointed by Elvis Presley Enterprises 2013's Ultimate Elvis Tribute Artist, Dean Z has been shaking up audiences in Branson and worldwide for years. Catch Dean Z: The Ultimate Elvis, delivering his Christmas tribute to the King Nov. 6 through Dec. 13 at Clay Cooper Theatre, 3216 W. 76 Country Blvd. (417-879-6060)
 As original as Dolly herself, Christmas at Dolly Parton's Stampede is an extravaganza on horseback, complete with "visits" to the North and South poles, plenty of elves and a four-course dinner feast. Through Jan. 5 at Dolly Parton's Stampede, 76 W. Country Blvd. (417-336-3000)
 A Shepherd's Christmas Carol is the Shepherd of the Hills Homestead's take on Dickens' classic A Christmas Carol, including characters from its beloved Shepherd of the Hills production, in dinner-theater format through Dec. 25 at Shepherd of the Hills Playhouse Theatre, 5586 W. 76 Country Blvd. (417-334-4191)
Elvis's cousin Jerry Presley, renowned for his performances as Elvis, is combining forces with the singing Blackwoods family for a joint extravaganza billed as Elvis LIVE! and the Blackwoods! Christmas Show. Catch it at God & Country Theaters, 1840 W. 76 Country Blvd. (417-334-6806)
Don't miss An Old Time Christmas at Silver Dollar City, where a certain red-nosed reindeer leads the nightly Rudolph's Holly Jolly Christmas Light Parade and the Broadway-style ComingHome for Christmas production brings Christmas traditions to life at Red Gold Heritage Hall. The Frontier Fa-la-la Follies take place at the Silver Dollar Saloon and other attractions abound. Nov. 4 through Dec. 30, 399 Silver Dollar City Parkway. (417-336-7100) 
Of course, Branson can't celebrate Christmas without one of its first performing families getting in on the fun. The Mabe family, aka Branson's Famous Baldknobbers, are celebrating more than 60 years as entertainers, and they're packing their holiday revue full of decades' worth of country hits, magic, comedy and plenty of Ozarks spirit, through Dec. 30 at Branson Famous Theatre, 645 Historic Highway 165. (417-231-4999)
About Branson
Branson is a one-of-a-kind family vacation destination — and an incredible value — nestled amid three pristine lakes in Missouri's beautiful Ozark Mountains. Attractions include a historic downtown, an entertainment district lined with theaters featuring over 100 live performances, an internationally recognized theme park, fascinating museums, several shopping areas and a full range of dining options. Lodging offerings include hotels, motels, resorts, RV parks and campgrounds, with easy access to meeting, sports and conference facilities. Branson's convenient location is less than one day's drive for one-third of America's population; low-cost flights to Branson Airport (BKG flybranson.com) and nearby Springfield-Branson National Airport (SGF flyspringfield.com ) are also available. Call 1-877-BRANSON for help planning your next vacation, sporting event, convention or reunion. Learn more at explorebranson.com.