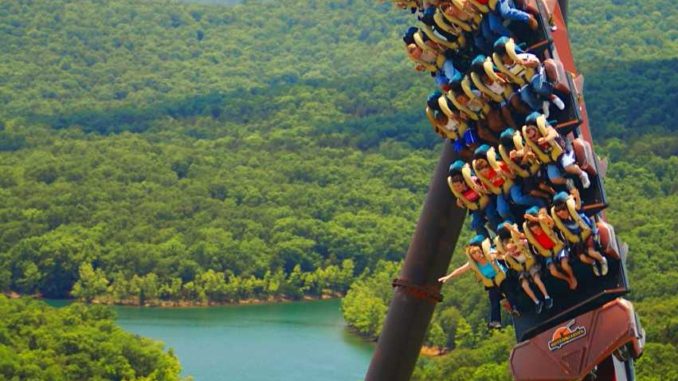 Introduction by Morgan Champion
Story by Jazmin Decker
Located in the heart of Branson, Missouri, the Silver Dollar City is an "authentic American adventure." Complete with over 40 family-friendly rides and attractions, 38 shows year-round, and a variety of shopping and dining options, this 1880's theme park is nothing short of extraordinary. Upon entering the park, children have the opportunity to soar to new heights with Elephant March, a slow-moving, self-controlled adventure that is sure to bring smiles among little ones and parents alike. Younger visitors can also safely climb, wiggle, and slide through the Fireman's Play Place, cool off in Firehouse Splash Yard, and take a spin on the Fireman's Flyer, a slow-moving swing ride. Thrill-seekers may find themselves aboard American Plunge, Electro-Spin, Fire-In-The-Hole, or Firefall—just to name a few. However, the real fun begins at Outlaw Run—the world's most daring wood coaster. Guests are plummeted down unexpected drops as steep as 162 feet, as well as twisted upside down a total of three times—all at an impressive top speed of 62 miles per hour. Foodies can make a stop at Crossroads Pizza, Dockside Grill, or Hatfields Tater Patch for authentic American favorites and an adventure with every bite. Finally, those who wish to bring a little adventure home can stop by Silver Dollar City's pray of shops, which are sure to have something for everyone in the family.
Silver Dollar City:
"Silver Dollar City is a special place in the heartland of America where your family can gather together in fun, where traditions are created, memories are shared and where time stops for you to celebrate each other. This 1880's theme park will turn an ordinary day into the best-ever day with fun that awaits you from a spring-time getaway to a Christmas celebration." From the PowderKeg, a thrilling roller coaster that launches you and your family 0 to 53 mph in 2.8 seconds, all the way to the Wildfire coaster, the high-flying, multi-looping, cobra-rolling coaster that travels up to speeds of 66 mph, you can find thrilling rides for the more daring visitors or calmer rides for children who like to take a more relaxing, yet enjoyable approach. A theme park full of "scream-worthy" thrill rides as well as family attractions and rides for smaller kids, Silver Dollar City was recently named to the list of Best Amusement Parks for Families from TripAdvisor's family travel site Family Vacation Critic, and in TopRated TripAdvisor Attractions in 50 States.
Join Silver Dollar City for summer's last blast during Moonlight Madness from July 15th-July 30th, allowing visitors to stay up and into the night with extended ride time until 10pm on over 40 rides & attractions! With late night street dances, cartoon character meet-and-greets, concerts by the award-winning vocal group Rockapella, and an all new fireworks display, the Moonlight Madness celebration is an event that you will definitely want to take part in!
Branson Belle Steamboat:
Showboats first appeared in the early 1800s as an imperial floating palace that brought culture and incredible entertainment from the big cities to America's country side and provided a show for many families in towns located along the river. The Grand Inaugural of the Showboat Branson Belle took passengers for their first cruise experience on the scenic Table Rock Lake in April, 1995. The majestic Showboat Branson Belle continues to offer the finest way to see the lake. By enjoying a delicious meal
prepared fresh on the ship and served directly to your table, you can take pleasure in award-winning, spectacular shows while feasting on a divine cuisine. The Showboat Branson Belle re-creates this 1800's era with elegant pride by allowing guests to embark on a journey, returning to a period in America full of adventure, history, and river romance. Opened on May 27th, the Showboat Branson Belle debuted an All-NEW Show—Country on the Lake! Country on the Lake is a live concert and BBQ lunch adventure at noon every day. "The show features rising Nashville stars backed by a live band performing country hits from Kenny Chesney, Rascal Flatts, Little Big Town, Zac Brown Band and many more!" This new show brings forth an all new meal as well: slow-smoked BBQ from Silver Dollar City's pitmasters, loaded mashed potatoes, grilled corn with roasted peppers and apple cinnamon ice cream pie. It truly is a historical party on the lake that you won't want to miss out on!
White Water Park:
This incredible park includes over 13 Acres of Slides and attractions as well as 2 million gallons of water-filled-fun. "The whole family can enjoy the tides of the 500,000-gallon Surf's Up Wave Pool, the gentle flow of the 800-foot Aloha River or the family-friendly fun at Splashaway Cay and Coconut Cove." More adventurous visitors can challenge themselves on the other White Water park rides, such as the speedy slides of Kalani Towers or KaPau Plummet, a heart-pounding thrill slide with a 240-foot, 70-degree plunge followed by a spiraling loop all the way down to a splashdown bellow!
On May 27th, White Water opened a new half-million dollar, interactive children's area that adds five slides, four water blasters, "bubbler" fountains, hose jets, tipping buckets and more, all created for interactive play. Splashaway Cay is an interactive family attraction with slides and geysers, and Coconut Cove with its new play area is specifically designed for smaller kids. Between the newer attractions that just opened and all the multiple water slides, there are slides and activities for families of all ages. A popular event in July and August is the Night Water, where the park stays open until 10 p.m. for cool water fun on hot summer nights. Night Water runs on select days from July 1st to August 12th and is an exciting summer event that is outstanding for all ages that you will want to bring your family to!