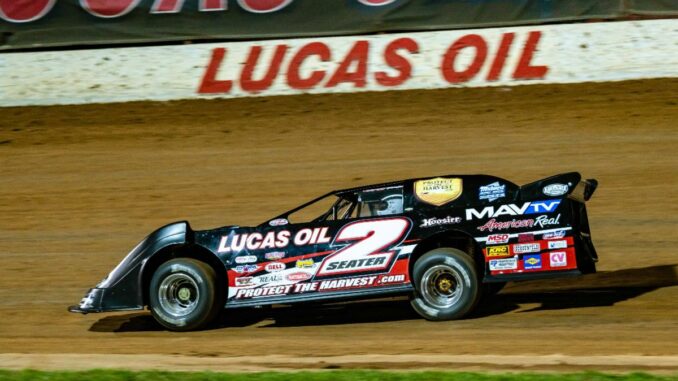 One lucky fan will win a ride in the Lucas Oil 2-Seater Late Model at the Rempfer Memorial Season Championship Program on August 24. (Kenny Shaw photo)
What's it like to make laps around "Diamond of Dirt Tracks?" One lucky fan will find out during Season Championship Program
One lucky fan will experience the sensation of making laps around Lucas Oil Speedway during Rempfer Memorial Season Championship Night Presented by Bill Roberts Chevrolet-Buick and KOLR/KRBK a week from Saturday.
For the second straight year, raffle tickets will be sold for a chance to win a ride in the Lucas Oil Speedway 2-Seater Late Model during intermission of the August 24 edition of the Big Adventure RV Weekly Racing Series.
"The 2-Seater Late Model ride proved to be extremely popular a year ago and we want to bring it back for the fans again," said Lucas Oil Speedway General Manager Danny Lorton, who will be behind the wheel as the winning fan buckles in for a five-lap spin around the "Diamond of Dirt Tracks" during intermission.
"Bring your camera. We really want this to be a memory of a lifetime for the winning fan," said Lorton, a former Late Model driver.
Raffle tickets will be sold that evening with the winning ticket drawn just prior to intermission. Tickets will be sold for $2 each, six for $10 or 12 for $20. Fans must be 18 years of age or older to participate and sign a waiver form.
"All summer we get the question, 'How can I get a ride in the 2-Seater?' This will be a fun chance to do just that," Lorton said. The car is displayed on the midway each week for fans to get an up-close look.
Class champions will be crowned in the Big Adventure RV Weekly Racing Series that night for the Pitts Homes USRA Modifieds, O'Reilly Auto Parts Street Stocks, Ozark Golf Cars USRA B-Mods and Warsaw Auto Marine & RV ULMA Late Models. It also will be Public Safety Appreciation Night as all Police, Fire and Rescue personnel will be admitted free with an ID.
This Saturday, action resumes with Fan Appreciation Night Presented by Ozarks CW/Ozarks Sports Zone. The Pitts Homes USRA Modifieds will headline the program with a 25-lap, $1,000-to-win main event.
In the next-to-last Big Adventure RV Weekly Racing Series program of 2019, fans will be treated to food and drink specials throughout the evening including $1 nachos & cheese, $2 hot dogs and $2 soft drinks or waters. There also will be specials in the Track Treasures Gift Shop and Diamond Bar during the evening and the first 500 fans through the spectator gates will receive gift bags courtesy of GEICO and Lucas Oil Speedway.
Gates open at 4 p.m. with hot laps at 6:30 and opening ceremonies at 7. The Ozark Golf Cars USRA B-Mods, Warsaw Auto Marine & RV Late Models and O'Reilly Auto Parts Street Stocks continue championship chases.
Pure Stocks also will be a special guest class and the Show-Me Vintage Racing Club will return after a popular appearance a year ago. The club, which features a wide variance of years, makes and models, will display their cars on the midway before putting on a 10-lap vintage race after intermission.
Admission prices:
Adults (16 and over) $12
Seniors (62 and over) $9
Youth (6-15) $5
Kids (5 and under) FREE
Family Pass $30
Pit pass $30
For questions about tickets or camping for any event at Lucas Oil Speedway, contact Admissions Director Nichole McMillan at (417) 282-5984 or via email at [email protected].
Complete Lucas Oil Speedway event information, archived race recaps, previews and driver features, along with ticket information and 2019 schedule can be found by visiting LucasOilSpeedway.com. 
Lucas Oil Speedway is located at Highways 83 and 54 in Wheatland, Missouri. A campground with shower and bathroom facilities is also available. With its entrance located just outside the pit gate this sprawling scenic camping facility will continue to enhance the racing experience at the Diamond of Dirt Tracks.
Click LucasOilSpeedway.com for more information and detailed directions to the speedway or call the Track Hotline at (417) 282-5984.