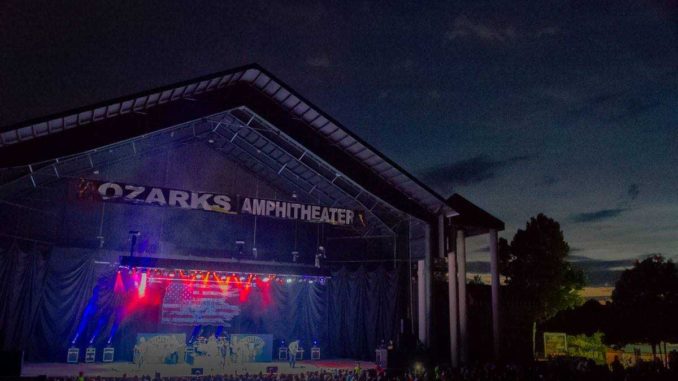 After a long winter it is great to find the rolling Ozark hills alive with the color and smells of spring. Like clockwork and in keeping with the old rhyme… April showers did in fact bring May flowers and the return of friends and families from their winter hibernation to enjoying the ample beauty and outdoor attractions found in our wonder state of Missouri. One such attraction our Missouri Magazine readers voted "The Best Large Outdoor Venue" in the "Best of Missouri" issue.
The Ozark Amphitheater boasts more than 10,000 seats. In addition there are between two and three thousand additional lawn seats. New this year will be a VIP deck offering the best seats in the house. The truth is wherever you sit in this beautiful venue you are going to have an amazing musical experience. Music under the stars in a venue tucked away in the beautiful Lake of the Ozarks hills… Can it get any better than that?
The venue was completed in 1993 and over the years has hosted world class acts such as the Charlie Daniel's Band, Foreigner, REO Speedwagon, Miranda Lambert, Blues Traveller, Willie Nelson and many more. But it took a while to get there. After struggling between ownerships the amphitheater sat vacant for a number of years until it was purchased by Bill Carle and Robert Mein, two business partners that worked together for several years at Red Rock Amphitheater in Colorado.
The venue had fallen into poor condition after sitting vacant for a number of years. It took the two partners nearly two years to make necessary repairs to reopen in July of 2015. In addition to a much needed facelift, lots of painting and general cleaning of the stage was necessary. The backstage area also required a wastewater treatment update. These were just a few of the changes needed to reopen the doors.
Carle is no stranger to this line of work. He grew up in a family that had been in tourism for many years. His mother ran the trading post at Red Rock when he was a child. Carle and Mein discovered the Ozark Amphitheater property online. They followed that with a few trips to Camdenton to see if the property had sold. Carle remembers being intrigued by the property when he discovered the location being in Camdenton. He was familiar with the area since he had visited it when he was a child. Helping with the family business as a child he remembered watching trucks pull up to 'Blair's Cedar' in Camdenton. He said "this made me feel I already had a connection to the area."
Carle remembers purchasing the property. He said, "There was an auction and I just sat there until I was the high bidder." Following the purchase Carle and Mein were also joined in business by Mike Flaherty who was also from Colorado. Dustin Day manages the property and Mary Kay Von Brendel works Public Relation and Marketing for the venue.
Von Brendel, since the opening of the amphitheater has become the face and voice for the venue. "I remember driving by the venue when it was closed. I actually snuck in and stood on the stage and began to sing… the acoustics were amazing and I knew I had to be a part of this incredible gem," said Von Brendel. "I began researching and found out the group from Red Rock had purchased it and I reached out to them and joined up with them in 2014 and the rest is history."
Von Brendel remembers all the work that went into reopening the doors to the Amphitheater. She said it was a true labor of love. She also recalled one of the owners saying about the venue, "She's a big ship; it will take a lot to turn her around." Four years later, and we have come a long way. In fact they were voted "Best Large Outdoor Venue" by Missouri Magazine readers in 2017. Von Brendel went on to say, "We were also ranked #5 of the Top 10 Outdoor Venues in the State of Missouri, and we're just getting started… we are very excited with what 2018 has in store."
Von Brendel said the 2018 will kick off a bit different. In fact the Amphitheater will be doing a first time ever event we are calling the "Stampede on the Stage", Saturday, May 19th. This event will feature live
bull riding and mutton busting right on our stage at the amphitheater. Von Brendel said they will be hosting the event in conjunction with the Camdenton VFW Post 5329 and Sho-Me Rodeo Productions.
Then of course there is music. Memorial Day Weekend the Amphitheater is excited to announce that "Alabama" will take the stage the evening of Saturday, May 26th. Von Brendel said "We already have ticket sales from over 23 states, so this promises to be a great way to kick off the summer."
The complete 2018 lineup is as follows:
Saturday, May 26 – Alabama
Friday, June 15 – Rodney Carrinton
Saturday, June 16 – Primus
Friday, July 6 – Jamey Johnson
Friday, July 20 – Free Fallin–Tom Petty Tribute
Saturday, July 21 – Dream Night Talent Search
Saturday, Sept. 1 – Aaron Lewis
Saturday, Sept. 22 – Get the Led Out–Led Zeppelin Tribute
Von Brendel was also thrilled to announce that they will be working with area marinas and water front restaurants to provide shuttles from the lake. This means you can park your boat, catch the shuttle, then enjoy a concert under the stars… Follow that with a shuttle back to your boat for a ride home on the beautiful Lake of the Ozarks under the stars… Can it get any better? Von Brendel said, "the details and water front locations are still under consideration and details will be available soon. If you are interested you can check with us when purchasing your tickets."
A night under the stars with music in the beautiful rolling Ozark hills, what else can you ask for? For more information about the Ozarks Amphitheater or for ticket information you can call 573-346-000 or check out their website Ozarksamp.com.