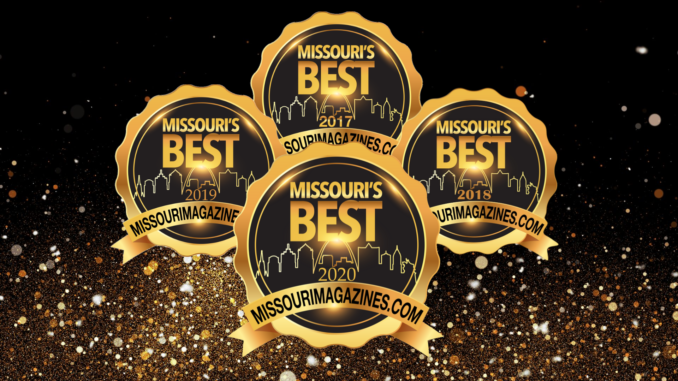 Welcome to MISSOURI'S BEST 2020!
Nominations begin November 1, 2019 through November 30, 2019.
VOTING begins December 1, 2019. You can vote daily from December 1 – 31.
Winners will be notified by January 15, 2020.
Missouri's Best Red Carpet Event will be held on Thursday, March 26 at The Regalia Hotel & Conference Center at the Lake of the Ozarks.
Check out our video from Missouri's Best Red Carpet Event 2019 here.
This year we are so excited to announce at our Missouri's Best Red Carpet Event on Thursday, March 26, 2020 we will be hosting our first ever After Party!
Missouri's Best Red Carpet and After Party tickets will go on sale January 1st and end March 9th, 2020. We love ya! However, we will have a limited number of tickets. Once we sell out we will not be able to accommodate you. All tickets must be purchased by March 9th, 2020. We will have After Party tickets at the door. (*this will be the After Party tickets only. All Red Carpet Event tickets must be purchased by March 9th, 2020). 
We have extended the deadline to get your tickets until March 9th or until we are sold out. (We only have a few VIP tables remaining.) *As of 2/18/2020
Were you nominated? If you represent a nominated business, send us your information here.
Was your business voted in your category? If so, then check out our voting packages to ensure your business is seen and remains top of mind during the voting phase. Let us help you spread the word and encourage our readers to vote for you in the voting round with these specially priced advertising packages. If you're interested contact your Account Manager, Megan Burnam at [email protected] for information on our voting campaign packages.
The 2020 Missouri's Best magazine will be published on Sunday, March 22. To advertise in Missouri's Best special edition and thank your voters contact us today at 573-284-5406 or [email protected]
Check out 2019 MISSOURI'S BEST Magazine here.
Every year we have issues with businesses being contacted by unscrupulous vendors trying to sell them special plaques. Winners do not need to pay anything for any plaque or window cling, those will be provided for free to all winning entrants. Should you wish to purchase an upgraded plaque, we've made arrangements for these as well.
If you have any additional questions, please feel free to reach out to Missouri Magazine at 573-284-5406 or [email protected]
Thank you to everyone for being part of Missouri's Best! We love celebrating the Best of Missouri!