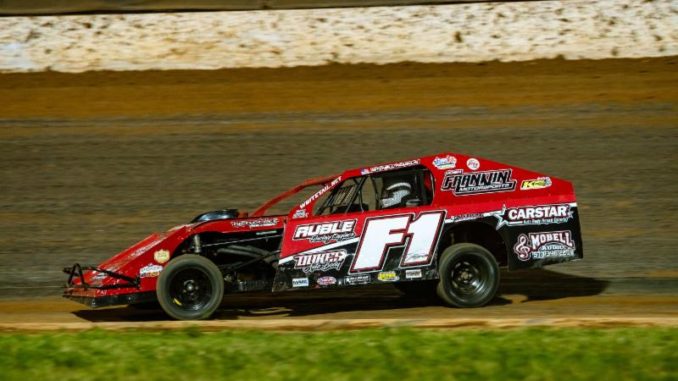 Mitchell Franklin had a solid rookie season in the Ozark Golf Cars USRA B-Mod division at Lucas Oil Speedway, finishing fifth in points. (Kenny Shaw photo)
Mitchell Franklin was one of Lucas Oil Speedway's breakthrough drivers in 2018, finishing fifth in his rookie season competing in the ultra-competitive Ozark Golf Cars USRA B-Mod division.
The 20-year-old from Camdenton, Missouri, looks to continue his ascent in 2019 in the family built and owned F1 car. Lucas Oil Speedway Public Relations Director Lyndal Scranton recently caught up with Franklin for a Preseason Spotlight "12 questions" session:
How close are you to having the car ready to go for the new season and what have you focused on in preparing for the new season?
"We're very close. I'm finishing up the body with the hood left to do. That's on order and then all we have to do is put the motor and tranny back in and we should be ready to go. We completely re-did the body and have been messing with the front-end suspension and some geometry stuff. Just to see if we can get it better. The thing a lot of people don't realize is that me and Dad (Josh Franklin) built that car from the ground up, minus the motor. So, we really have went through it this year and have done a little more R & D. We've really been going through it and trying to see if we can make it a little better."
You made the step up to B-Mods last season. What was that experience like?
"It was humbling at first. I came from Midwest Mods the year before and I hovered around the top-five and top-three and almost won a couple. I got to Lucas and the competition there is second to none. We had to work for it. At the beginning we had some mechanical failures and I made some bad mistakes and got myself in a bad position. After that we put our head down and studied what some other guys were doing. We watched a lot of film and I just needed to get better at driving the track. By doing all that, we got a little better and it seemed like either fourth or fifth was our mark the last five or six races."
Finishing in the top five of points at Lucas Oil Speedway in the B-Mod class is pretty impressive, especially for a rookie. What did that mean to you?
"Our goal was to get top 10 in points. That was our goal from the beginning and it started out rough. We weren't down in the dumps (early), but hoping we could still make it. We put those last couple of weeks together and ended up fifth and that was tremendous. To be up there in the top five with those guys like Kris Jackson and (JC) Morton and Taylor (Moore) and all those guys, they are really good race-car drivers and are fast everywhere they go. It was humbling to know that something me and Dad built and work on all the time could perform with those guys at that level. We're still a pretty low-buck team right now, so it was rewarding to know somebody on a budget could still run with those guys."
From a driving standpoint, what's the biggest thing you learned last season?
"You can gain a lot of ground on corner entry. At the beginning of the year it seemed like I was always off the throttle a lot sooner. I got to watching those videos and watching those guys and they drove it all the way into the center. Once I got a little more comfortable with the car, I could do that with a little more confident and that helped me. Just entering hard and being patient and letting the front end do what it's supposed to do and making sure it's pointed in the right direction. You also have to not run in there and get into somebody, too. That's the biggest thing, watching those guys up front and learning how they drive the track. When we watch videos, I like to watch myself, but I like to watch the guys up front and compare myself to them. I can learn a lot from that."
Looking to the 2019 season, what kind of goals have you set?
"I would really, really, really like to win one. I've been close a couple of times and I feel like I've had the car to do it a couple of times. They always say that first one is the hardest one. I feel like if I could get that first one, it would be great. We plan to run Lucas weekly and then we're gonna travel around some other nights and see if we can learn this car a little better. Me and Dad built this car and he's getting back into building some cars. If we can learn how our car reacts to certain changes, we can help some other guys as well as helping ourselves be quicker and consistent. That would help put us to maybe be in position to maybe win a race a couple of times. That would make my season."
Your dad, Josh Franklin, has been around area racing for a long time as both a driver and then a car builder. What has he meant to your career?
"He's my ace in the hole. You always take it for granted because he's your Dad and he always picks on you and stuff. But he's just been a tremendous, for lack of a better word … he's my hero. He's the reason I do as good as I do. He's tough, but he's not hard on me. He expects me to try my best, but he doesn't expect me to go out and win every race. He helps put me in a position where I can give it my best every race. He sacrifices a lot for me. He could be doing a lot of other things with his money and time. He's just been a great asset. I'm lucky to have him and I love him a lot."
Who else has been influential in your racing career?
"Kris Jackson has helped me. When I was first getting going, Mike Striegel. Plus Kenny Carroll, who is like my Dad's best friend. We've built a lot of race cars for him. If there's a part I need, he can get it for me quick. He's a real good driver and helps me a bunch. Really, just all the guys at Lucas who race. They're all real personable and you can go talk to them and compare lines and set-ups. They've all been real good to me, especially with me being so new. David Hendrix is another big supporter of mine. I've become real good friends with him. He's driven a lot of race cars and has been real successful in a lot of them. He's very knowledgeable."
Your first full season in Midwest Mods was 2017. What do you remember about your first race?
"I ran three races in 2016, trying to get my feet wet. Out of the box I was pretty fast. It was a heat race and I got a little confident and spun it out in front of everybody. It was over at Midway, a two-feature night. I ran about 13th in the first feature and in the second one I got up to eighth. It was the greatest feeling in the world to take something that is out of control and control it for 20 laps."
What is the significance of your car number, F1?
"That was my Dad's number for the longest time. He went back and forth between F1 and 2. It's not really a tribute, but it's been in our family from him racing and I figured I would continue on with that. It's a little different. It's big, block, simple and clean and you can read it from the stands pretty good. I love the font we picked out and I just love that number."
You have a sharp-looking car that stands out. Any cosmetic changes planned for 2019 with how it looks?
"We have a couple of additional sponsors coming on board, but the same scheme. Dad and I think it's important to have a car that looks pretty similar, year to year so that fans can have that vehicle recognition.
Who are your sponsors for this season?
"We have B&G Custom Fabrication, Whitetail Trophy Hunts, MoBell Audio, Kenny Carroll Excavating, Hawken Carstar, Ruble Racing Engines, Duke's Auto Body and Hendrix Construction."
What other interests do you have besides racing?
"Right now I'm working three days a week and going to school two days a week. I'm enrolled in a Sales and Marketing degree through OTC and Missouri State in Springfield and that takes up a lot of my time. Me and Dad are big Off Road Racing fans. When we're not in the shop working on my car, or I'm in school or working, we're usually watching Off Road Races in the house."
The 2019 Lucas Oil Speedway season kicks off March 30 with an open test and tune. The Big Adventure RV Weekly Racing Series begins April 6 with action in all four of the weekly divisions – Pitts Homes USRA Modifieds, Ozark Golf Cars USRA B-Mods, Warsaw Auto Marine & RV ULMA Late Models and O'Reilly Auto Parts Street Stocks.
To inquire about tickets, VIP suites or camping, contact McMillan at (417) 282-5984 or via email at [email protected].