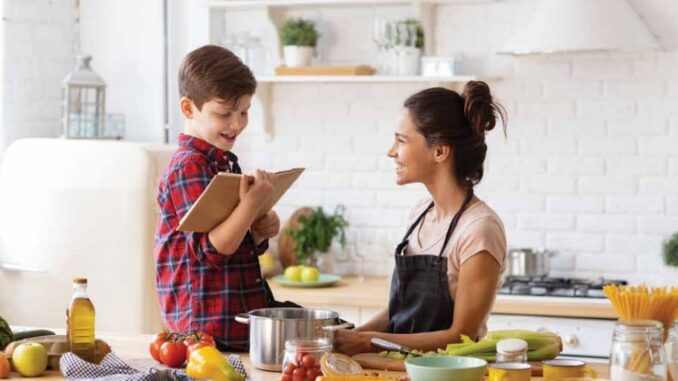 Do you have a collection of pictures and recipes of your Mom's best dishes? Does it only feel like July Fourth if her potato salad is on the table? Is there a homemade soup recipe that is the only thing that will make you feel better when you are ill?
This year, make a special Mother's Day gift by collecting all those recipes into a customized cookbook that captures all those recipes for posterity.
INVOLVE EVERYONE
This is one of those gifts that gets better the more people contribute to it. Browse sites such as Pinterest or sites with teacher lesson plans searching for "Mother's Day Cookbook." There are many templates and ideas for how even very young children can contribute to a cookbook for mom. For example, you could ask a kindergartener or first-grader to answer questions such as "What's your favorite breakfast?" or "How do you make your favorite food?" The answers are likely to be fun and sweet and may involve simple things like toasters or even recipes for something other than food. Ask them to draw pictures of their favorite foods. Older kids can probably provide more sophisticated recipes while photos of babies being fed a meal by mom can have them be a part of the project.
FIND RECIPES
Reach out to grandparents, aunts and uncles for recipes that they have shared with your mom and ask them whether they have pictures. Make a list of recipes you want to include — and decide what your minimum and maximum numbers will be. You may want to create sections such as "breakfast in bed with mom" or "mom's cookie jar" or "mom's favorite meals" or "family classics" or "must-have holiday dishes." If your mom has an Instagram account, you might be able to find photos of dishes she's made there. Or you can schedule a photo shoot and have someone come take pictures of your family making meals together in the kitchen and then put those photos throughout the cookbook.
DESIGN THE COOKBOOK
Decide how you are going to compile the cookbook. Is it something you will be designing and printing from your computer? Or will you be using a printing service? Local print shops are a great option because you can talk to them about exactly what you want and they can show you samples of other work they've done. They can discuss the pros and cons of softcover or hardcover books. Spiral-bound books are also practical for cookbooks as they will stay open on the page you are cooking from. Another option is to reach out to an online print shop that specializes in cookbooks such as Shutterfly, Heritage Cookbook, Create My Cookbook or Snapfish. Create a title and select cover art — either photos or graphic images. The print shop you work with may have some templates.
Customize the inside of the cookbook with quotes, stories and pictures. Record how many generations a recipe goes back and whether there are special occasions where it is used. As a final touch, prepare some of Mom's favorite recipes and serve them to her on Mother's Day when you gift her the cookbook.