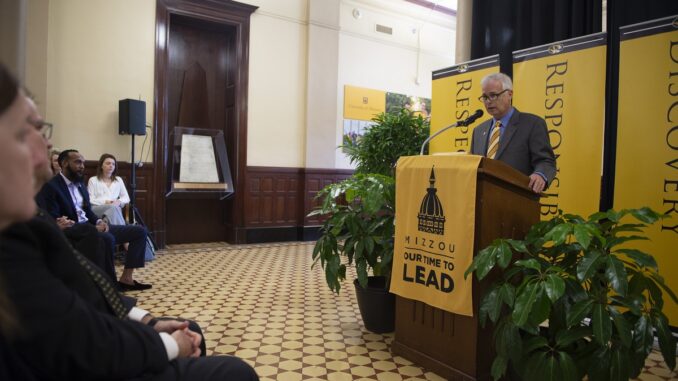 Large and small gifts helped the university raise a record-breaking $200 million in 2019
Today, University of Missouri officials celebrated a record-breaking year in giving, receiving $200 million in total gifts this academic year, including pledges for future funds – an 18% increase shattering the previous record of $170 million set in 2016.
This year's giving brings the Mizzou: Our Time to Lead campaign total to more than $1.2 billion, $50 million shy of the campaign's $1.3 billion goal.
"Our record-breaking fundraising year is impressive, but the real story is the impact these gifts have on our students, faculty and staff," said Vice Chancellor for Advancement Tom Hiles. "What inspires me the most are the scholarships that support our students, the faculty funding that allows us to recruit and retain excellent researchers and the capital that builds world-class teaching and research spaces. I will put our team and Mizzou donors up against anyone in the country."
This year, Mizzou also broke previous records for annual giving, which includes gifts under $10,000 that were received in full. Small gifts totaling $21.3 million were given to support many initiatives at Mizzou, including scholarships and research.
"This exciting trend proves that time and again, Mizzou alumni and friends are dedicated to strengthening Missouri's flagship university," MU Chancellor Alexander N. Cartwright said. "We are proud to have some of the most generous supporters in the nation, and the gifts they've given will be transformative for current and future Mizzou students."
One of the donors who has made this important milestone possible is Charles R. Wall, a Mizzou alumnus who announced today that the Wall Family Foundation will be asked to give $4.5 million to the University of Missouri School of Law.
"I want all future University of Missouri School of Law graduates to know they can compete with graduates from any law school in the country," Wall said. "I've seen firsthand the results of investing in MU and its students, and continuing my commitment to that vision is important to me."
$2 million of the Wall Family Foundation's gift would be used to support unrestricted scholarships for MU Law students. Another $2.5 million would be used to support the Wall Family Chair in Corporate Law and Governance and create the new Wall Family Chair in U.S. Constitutional Law once a candidate is identified.
"Chuck used his Mizzou Law degree to pursue excellence and practice law at the highest levels on a national stage. We are grateful he is providing a path for students to follow in his footsteps," MU School of Law Dean and Judge C.A. Leedy Professor of Law Lyrissa Lidsky said. "This generous gift will empower our students to pursue their chosen career paths without the burden of indebtedness."
Khristopher Johnson-DeLoatch, a current MU Law student and recipient of the Laurence Wall Scholarship, said that receiving scholarship funds helped alleviate his concerns about affording law school.
"The Laurence Wall Scholarship helped make my dream a reality," Johnson-DeLoatch said. "For years I wanted to pursue a law degree, but at times it didn't seem attainable because I wasn't sure if I could finance it. The generosity of the Wall Family Foundation was really a game changer for me."
These funds will help support the Mizzou: Our Time to Lead $1.3 billion campaign, which aims to secure MU's status among the nation's elite public universities by focusing on four priorities:
Establishing an endowment to strengthen MU's ability to attract and retain stellar students and faculty.
Enhancing MU's AAU status through the creation of signature centers and institutes.
Propelling Mizzou to global leadership in education and research by spurring a campus renaissance with new and renovated facilities.
Developing student success initiatives that give Mizzou students access to world-class learning opportunities that ensure they thrive on campus and throughout their lives.
"This has been a campaign of record-breaking success," said Richard Miller, Mizzou: Our Time to Lead campaign cabinet tri-chair. "Again and again, the halls of Jesse have echoed with applause and cheers as we have celebrated the role of philanthropy and how this truly has become our time to lead."