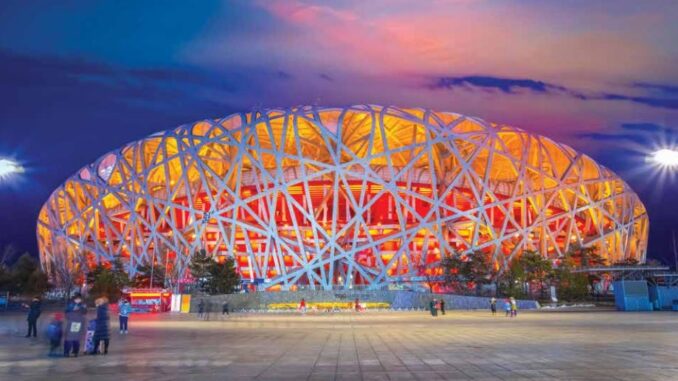 The Winter Olympics returns about six months after the summer games concluded, and history will be made: Beijing will become the first city to host both editions, having earlier played host to the 2008 summer games. The Winter Olympics begin today with the usual gala opening ceremonies, coinciding with the most important holiday celebrated by the host country — Chinese New Year, which begins on Feb. 1.
WHAT TO WATCH FOR
America's top athletes will be on skates and snowboards instead of sneakers and surfboards, competing in a record 109 events across seven sports. Included are familiar sports like figure skating, ice hockey, bobsledding, curling and the luge, as well as seven new events. Beijing 2022 will see the debut of mixed-team freestyle aerial skiing, women's single-person bobsled, the "big air" freestyle for both men and women, snowboard cross, ski jumping and a mixed short-track speed-skating relay. They'll be competing with some heavy-hitting counter-programming: The winter games are overlapping with the Super Bowl this year.
OPENING AND CLOSING
Many of those who don't follow sports still tune in for the spectacle and beauty of the opening ceremonies. This year's event takes place on Feb. 4 at the National Stadium in Beijing. Known colloquially as the "Birds Nest," this venue served the same role for the 2008 Beijing summer games. China is 13 hours ahead of America's Eastern time zone, so live coverage will take place on NBC's digital platforms. Look for time-delayed coverage on national television that evening. Spectators will be present in Beijing, unlike in last summer's opening ceremony in Tokyo — but because of pandemic protocols, only spectators from mainland China can attend. The games then continue until Feb. 20.
THE VENUES
The National Stadium will go dark after the opening ceremonies, as Olympic action shifts to three different zones: Beijing, Yanqing and Zhangjiakou. Ice sports will take place in Beijing, where six venues are located. Many of these spaces are being repurposed from the 2008 summer games, with the air ramp and speed-skating arena as new additions. Yanqing, a mountainous suburb that's about 45 miles northwest of Beijing, features two venues that will host Alpine skiing and sliding sports. Zhangjiakou is past Yanqing, more than 100 miles northwest of Beijing, and is also accessible by high-speed train. This popular ski Chinese ski destination includes four venues to host all remaining snow events. Each area has its own repurposed athlete village; they'll be converted into public housing and office space after the games are completed.