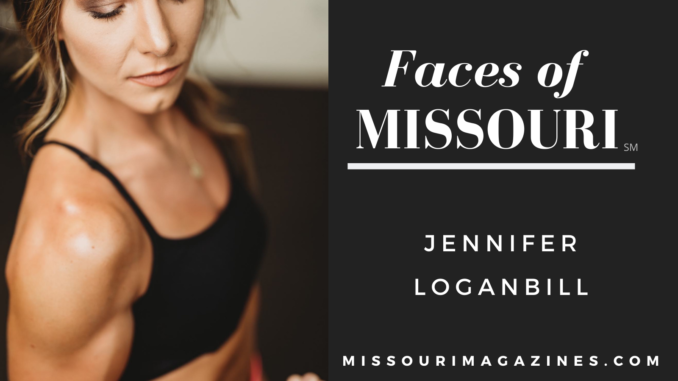 "One of my favorite things at Missouri Magazine is celebrating the people and heart behind so many amazing businesses throughout the state of Missouri. As I type out the interview, I always love reading the inspiration/heart behind their business. From the first time I met Jennifer I felt like I have known her my entire life. What a beautiful boss babe inside and out Jennifer is. She is a wife, mom, business woman, entrepreneur and personal trainer who strives to make a difference in everyone she meets. She is there to help each and every one of the Sweaty Sisters each and every day. It is my pleasure to introduce to you, Jennifer Loganbill, the face behind Jen's Get Fit Group." -Cheri Cranford, Founder & CEO of CDM Media Group, LLC.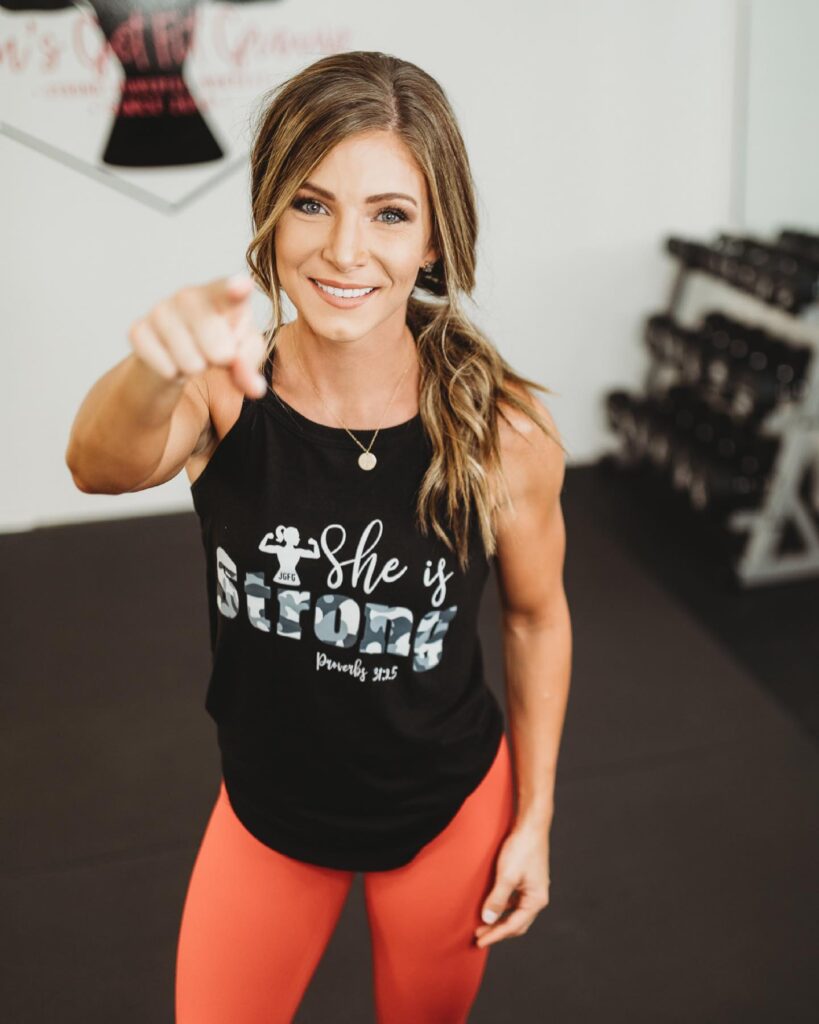 Missouri Magazine: Tell us a little about yourself and your journey.
Jennifer Loganbill: I am a wife, mom to two sweet little kiddos, a nurse, a certified personal trainer, and a certified nutritionist. I fell in love with lifting weights over 12 years ago when I was going to the gym. Doing only cardio wasn't giving me the results I was looking for, so I ventured over to the weights side, and that's when I started seeing the results I wanted. Lifting with my husband is something I've always enjoyed, and we consider it "us time." After having two young kids, I working as a nurse and having my husband travel for work; going to the gym as often as I would like was no longer an option for me. I had to figure out how I could see the results that I wanted, consistently lift weights because it was my passion, and move my body from home and in a quick timeframe.
So, I bought a set of dumbbells and went to work. I started doing my workout routine at home. Not long after I started my at-home training, I had several family members and friends reach out to me asking for help with their fitness goals–the rest is history. I started Jen's Get Fit Group, LLC in March 2018 with 15 members, and over the past three years, I grew from 15 members to over 6,000 members.
Missouri Magazine: Tell us your role at Jen's Get Fit Group.
Jennifer Loganbill: I wear all the hats! I am the owner, certified personal trainer and nutritionist, graphic designer, marketing guru, social media manager, and any other jobs that need to be done to keep JGFG running smoothly. As an entrepreneur, at the end of the day, I have a hand in every aspect of my business, and I wouldn't have it any other way.
Missouri Magazine: Please share a little about Jen's Get Fit Group with our readers.
Jennifer Loganbill: JGFG is a place for empowerment and support- I (Jen) provide 24 minute HIIT workouts that can be done at home or in the gym, nutrition and supplement coaching, weekly meal plans, an online support group, and so many other useful and realistic tools to guide members on their fitness journey. JGFG is more than a fitness class, it's a place for members to learn how to love their bodies while gaining the knowledge to live a sustainable, healthy lifestyle.
Missouri Magazine: What do you love most about living in Missouri?
Jennifer Loganbill: Missouri is my home– I have lived here my whole life. I love having my family only an hour away from me. We have some beautiful sunsets in the spring and summer. I love there is a mix of city life and rural life just minutes from each other. I love the Missouri State Fair– it has been something my family and I have done since I was young. It's special because now I get to take my kids and show them all of my favorite activities there. 
Missouri Magazine: What are your family's favorite activities?
Jennifer Loganbill: We love being outside–fishing at our pond, going to check cows at
my in-laws, going for walks, working out together at my studio, going to the pool, hanging out with our family–anything outdoors.
Missouri Magazine: Where can someone find you when you are not at work?
Jennifer Loganbill: At home with my kid and husband or the beach. We love visiting the beach and traveling with our kids.
Missouri Magazine: What do you consider your greatest professional achievement?
Jennifer Loganbill: Winning Missouri's Best Personal Trainer, Entrepreneur, and Health and Fitness Club for 2020, 2021 and 2022. Also winning 1st Place in the Personal Trainer Category for Best Of Columbia. Forever grateful for all of my members, friends, and family that nominated and voted me the best!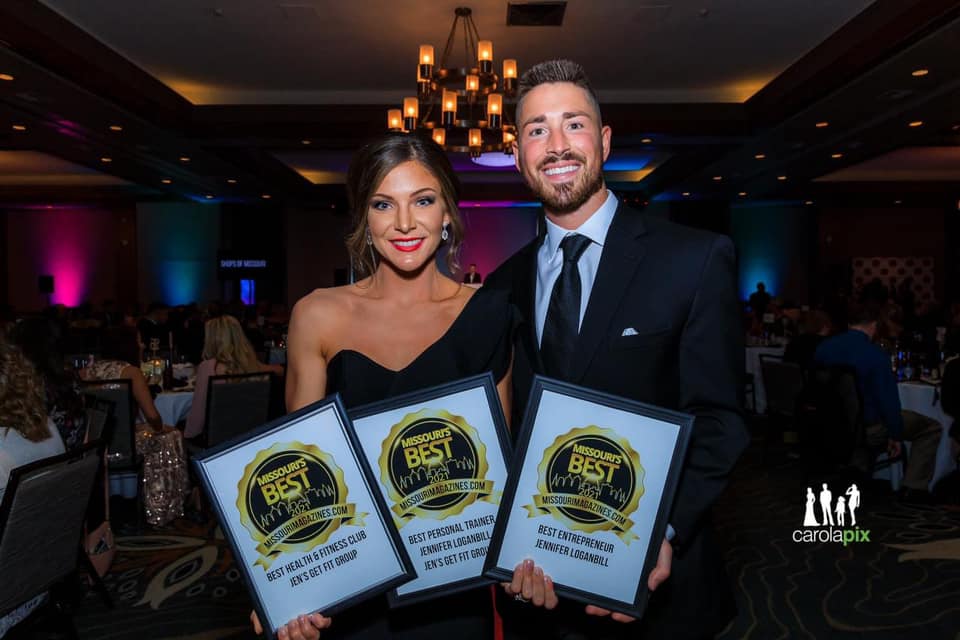 Missouri Magazine: Do you have a favorite local charity?
Jennifer Loganbill: I love Cancer Perks and all that it stands for. They are based in my hometown, Sedalia, MO, and the founder has been in my group for a few years, so I love to sponsor and give back to them.
Missouri Magazine: Why did you decide to become a personal trainer?
Jennifer Loganbill: Fitness has been my passion for over 12 years. I am also a nurse, so I love helping people. It just made sense that I would start a business helping others and incorporating fitness to empower women and men to love working out, transforming their bodies in a healthy and sustainable way, and becoming stronger on the inside and out.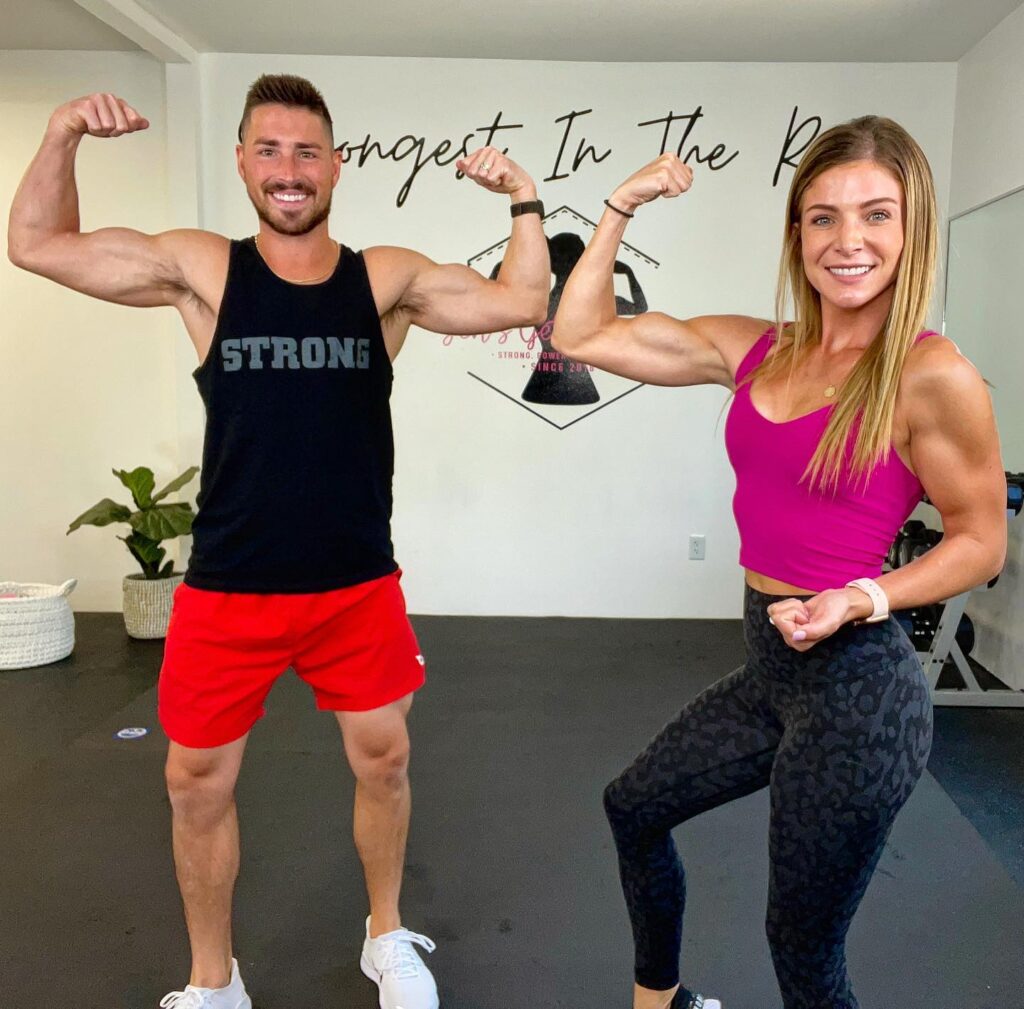 Missouri Magazine: What are some of your local favorite places?
Jennifer Loganbill: We love to support local and small businesses, so a few locally owned places we often visit are Las Margaritas, Sky Zone, and Ozark Coffee. We have so many we love!
Missouri Magazine: How did the name of your business originate?
Jennifer Loganbill: I chose Jen's Get Fit Group as it felt the most approachable and welcoming to members. Getting Fit looks different for everyone. We don't just focus on getting our body fit; we want the whole package– body, mind, soul, and finding balance. Getting fit does not mean you have to be super lean and have a ton of muscle; it looks different for every member in my group. I think that is the beauty of Jen's Get Fit Group; thousands of members look different, who are strangers, who have different lifestyles, yet still come together to empower each other to be better as a whole.
Missouri Magazine: How long have you lived in Missouri?
Jennifer Loganbill: My whole life. I've moved to a few different cities in Missouri, but I've always lived in Missouri.
Missouri Magazine: What has kept you living in Missouri?
Jennifer Loganbill: Our family. Missouri is our home, and we don't plan to move outside of Missouri at this point!
Missouri Magazine: What is something on your bucket list?
Jennifer Loganbill: Sky diving. I would love to do this someday.
Missouri Magazine: What is your favorite restaurant in Missouri, and what do you love there?
Jennifer Loganbill: Las Margaritas– Franzia Special. I love the good local feel of the restaurant, the good food and drinks, and the great service.
Missouri Magazine: What is something interesting that most people don't know about you?
Jennifer Loganbill: This is hard because I really don't have anything my members don't know about me–what you see is what you get. I am 100% an open book to my members and on my social media. I practice what I preach. This is so important to me. Through the years, I've had a few people ask me if I go to the gym or do other workouts outside of my workouts– absolutely not. I would never ask my members to do something I wouldn't do myself. I never work out unless I am recording it for my members. The same for my recipes and meal plans– I would never ask my members to eat or follow a meal plan I wouldn't follow myself. I write everything myself, so it is all 100% everything I practice myself.
Missouri Magazine: What are some health tips you would like to share with our readers?
Jennifer Loganbill: Three tips (health-related and not) that I would offer to anyone for being successful in the fitness world and just life in general:
1. Do not compare yourself, your results, or your life to anyone else. You have to keep your chin up, worry about what is going on in your lane. When you look at someone else, you will fall off track and allow comparison to get in the way of your happiness.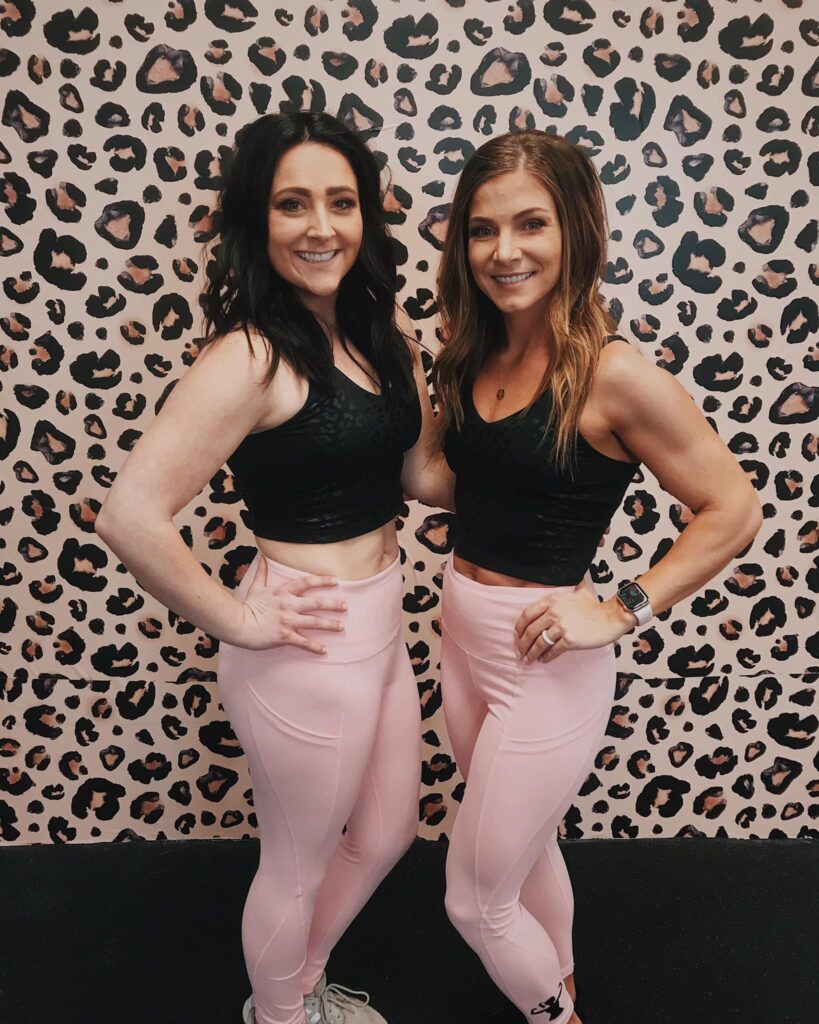 2. Take your time when you are improving your health and getting into a fitness routine. I am very transparent with my members and tell them not to expect quick results. I tell my members, "slow and steady wins the race." Long-term, sustainable results are achieved through lifestyle changes, not quick fixes, and that is what I teach my members. My program is something you can do long-term. Your results will be determined by how much work you put in. I give you all of the tools you need, and you have to put in the time and effort. You are 100% responsible for your results. That being said, stay away from something that offers a quick fix or a fad diet because it is just that, a quick fix, not a long-term solution.
3. You get one life, enjoy your daily routine. The workout is as good as you make it. Your day is as good as you make it. Keep that mindset, and your daily work routine, workout routine, and life will be better.
Lastly, enjoy the delicious food that blesses your body as fuel. People have to learn how to build a healthy relationship with food, and in JGFG I help you with this as it is so important in life.
Missouri Magazine: Where does your inspiration come from?
Jennifer Loganbill: My husband and kids push me to be better every single day. I refuse to be a lazy parent or person. Life is so short to not enjoy daily movement and a healthy lifestyle. I love teaching this to my kids.
Missouri Magazine: What is your favorite part about your job?
Jennifer Loganbill: Being able to help others transform their minds, bodies, hearts and establish a long-term fitness routine all while finding balance.
Missouri Magazine: What is your favorite quote?
Jennifer Loganbill: "Physical fitness is the first requisite of happiness." – Joseph Pilates
For more information about Jen's Get Fit Group visit their website at: www.jensgetfitgroup.com