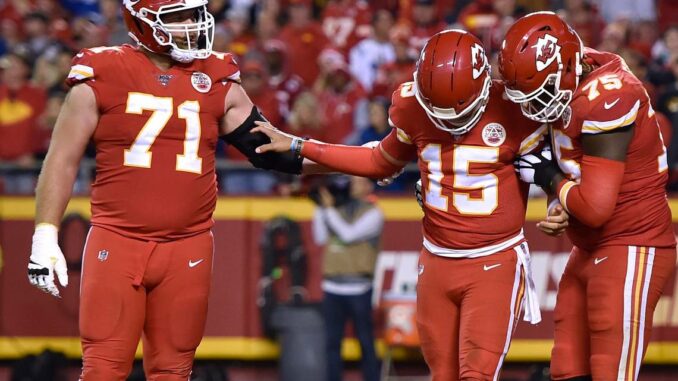 Not the turn out we wanted. It's just one game. Now the Chiefs must work to make sure it stays that way.
CHIEFS CONTINUE TO SCORE SECOND QUARTER POINTS: With seven points in the second quarter of today's game, the Chiefs have scored 77 points in the second quarter in the first five games of the season, the most in NFL since 1991.
NFL RECORD BOOK
MOST POINTS SCORED, 2Q, WEEKS 1-5 (SINCE 1991):
1. 77 Kansas City 2019
2. 72 Arizona 2015
3. 69 Denver 2013
4. 68 San Diego 2016
5. 66 Pittsburgh 2018
MAHOMES BREAKS ANOTHER NFL RECORD: By throwing for 321 yards and no interceptions in tonight's game, QB Patrick Mahomes now owns 1,831 passing yards with no interceptions to begin the season, the most yards without an interception in NFL history. He passed QB Peyton Manning who threw for 1,744 passing yards without an interception to begin the 2013 season. Mahomes completed 22-of-39 passes for 321 yards and a 91.9 passer rating in tonight's game
MAHOMES CONTINUES TO MAKE HIS MARK: With 321 passing yards in tonight's game QB Patrick Mahomes has now thrown for 1,831 yards through the first five weeks of the season, the fourth-most yards in NFL history in a team's first five games. Mahomes joins QB Peyton Manning (2009, 2013) and Pro Football HOF QBs Kurt Warner (2000) and Steve Young (1998) as the only players to record at least 300 yards passing in each of their first five games to begin a season in NFL annals. His 321 yards in tonight's game give him 15-career 300+ yard games, tied for the second-most in franchise history with Chiefs QB Bill Kenney.
NFL RECORD BOOK
MOST TOTAL PASSING YARDS, FIRST FIVE WEEKS OF SEASON
1. 1,947 Kurt Warner 2000
2. 1,884 Peyton Manning 2013
3. 1,874 Tom Brady 2011
4. 1,831 Patrick Mahomes 2019
5. 1,792 Joe Montana 1990
CHIEFS RECORD BOOK
MOST GAMES, 300 YARDS PASSING, CAREER
1. 24 Trent Green 2001-06
2t. 15 Patrick Mahomes 2017-19
Bill Kenney 1979-88
4. 9 Len Dawson 1962-75
5. 8 Alex Smith 2013-17
PRINGLE HAS A DAY: WR Byron Pringle scored his first-career touchdown in tonight's game on a 27-yard pass from QB Patrick Mahomes. He also logged his first-career 100-receiving yard game in the Sunday night matchup against the Colts. Pringle finished the game with career-highs in receiving yards (103) and receptions (six) along with one touchdown.
MATHIEU SNAGS INTERCEPTION: S Tyrann Mathieu snagged his first interception in a Chiefs uniform, picking off Colts QB Jacoby Brissett and returning the ball 31 yards to Kansas City's 37-yard line. This marks Mathieu's 14th-career interception. Mathieu finished the game with four solo tackles, one for loss, one pass defensed and one interception.