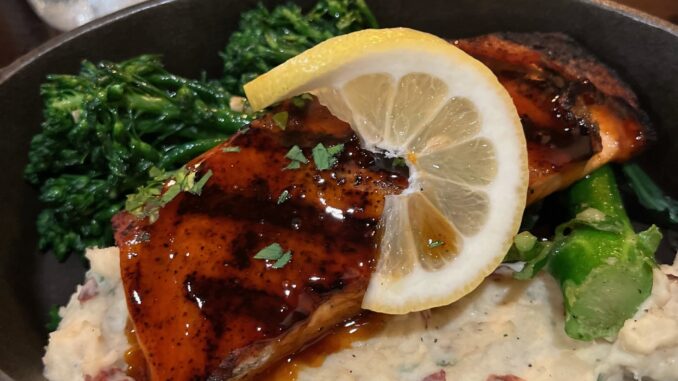 In case you're new around here, WELCOME to Missouri Magazine! We're glad to meet you!
We are a lifestyle publication local to Lake of the Ozarks, Missouri. We connect people with local businesses. An all digital publication online, Missouri's Best celebrates small businesses, supports local entrepreneurs, and helps readers enjoy the community to its fullest.
Looking for a cozy spot to unwind and savor delicious food? Let me introduce you to The Tavern at Trails End in Sunrise Beach, Missouri! Settle into their welcoming ambience while indulging in mouthwatering dishes prepared with love and the freshest ingredients. From juicy steaks to fresh seafood and many other delectable options, their menu has something for everyone.
But it's not just the food that makes this place special. The Tavern at Trails End takes pride in their friendly and attentive staff, making every visit feel like catching up with old friends.
Here are a few mouthwatering options that you might want to try:
Calling all steak enthusiasts! Get ready to sink your teeth into the ultimate delight the 16 oz Cowboy Ribeye! This gorgeous and perfectly cooked ribeye is generously coated with a delectable honey-ancho glaze that adds a subtle touch of sweetness and a hint of smoky flavor to every bite. But wait, there's more! As if that wasn't tempting enough, this juicy steak is beautifully crowned with crispy fried shoestring onions, adding a delightful crunch and a burst of flavor to the already incredible dish. To complete the heavenly experience, it's served alongside creamy and satisfying baby red mashers. If you're a steak lover, this is a must-try.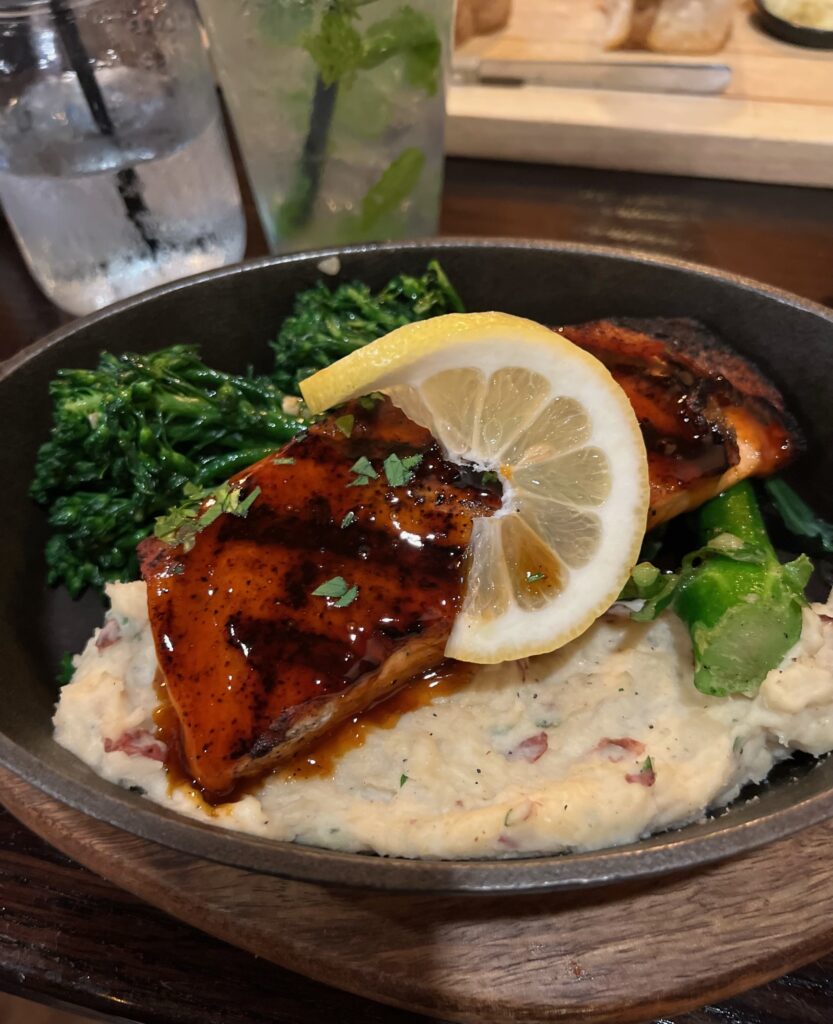 Craving some mouthwatering seafood? Look no further than The Tavern at Trails End's Grilled Salmon! Served on a bed of flavorful wild rice pilaf and accompanied by a delightful vegetable medley du jour, this dish is sure to satisfy your taste buds. I highly suggest skipping the wild rice pilaf and try their horseradish mashed potatoes. It's the perfect accompaniment to their delicious Grilled Salmon! The creamy texture of the mashed potatoes combined with the zingy kick from the horseradish creates a flavorful combination that will complement the grilled salmon beautifully.
But wait, there's more! The grilled salmon at The Tavern at Trails End gets an extra touch of deliciousness with a bourbon honey glaze. The combination of savory and sweet flavors is a true culinary delight.
We highly suggest the Cast Iron Cobbler Ala Mode with blackberries. Imagine warm, gooey blackberry cobbler baked to perfection in a cast-iron skillet, topped with a generous scoop of creamy vanilla ice cream. The contrasting textures of the crispy cobbler and the smooth ice cream create a heavenly combination of flavors that will tantalize your taste buds.
Indulging in this sweet treat is the perfect way to end a delicious meal at The Tavern at Trails End. Treat yourself and satisfy your dessert cravings with this delightful delight!
So whether you're looking for a family-friendly dinner, a romantic night out, or a place to celebrate special moments, don't miss out on The Tavern at Trails End located on the beautiful Lake of the Ozarks.
Be sure to check out their website for more information and follow their Facebook page for updates. We highly suggest making reservations here.
Know of another amazing company in Missouri? Tag us on social @bestofmissouri and share your favorite places!
#ExploreMissouri