Gym & Personal Fitness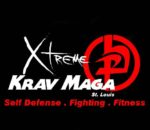 639 Gravois Bluffs Blvd. Suite C, Fenton
63026
Our mission is to equip everyday men and women with effective self-defense skills for any situation. We're teaching you how to react to a threat without wasting a second and face life with more confidence than ever before.
Xtreme Krav Maga is a self-defense training and fitness studio serving men and women all across St. Louis.
We opened in February 2009, training out of a 2000 sq. ft gym. In just 2 short years, we moved and expanded to a 9000+ sq ft. facility.
We offer numerous classes and training activities, including: Krav Maga, Jiu-Jitsu, Kickboxing Boot Camp, Cross Fit-X Conditioning, Kid's Self Defense, Law EnforcementMilitary Defense Tactics and more–all taught by Certified Instructors.
Our team is proud to work with people of all ages and experience levels. Come see us today or simply fill out the short form on your screen to learn more!